I wake up on Sunday morning, in my tent, with my wellies on, feet outside my tent. I was thankful I had my wellies on as it was raining. There was a point on Saturday evening where I stopped taking mental notes, voice memos, searching for things, and just enjoyed the music and dancing. After Gorillaz, which was an audio-visual spectacular as one might imagine I found a psytrance party in the woods and thought I was at Shpongle. I had a brilliant time but after doing some research in the days after I realised I wasn't in the Psychedelic Woods at all. That's the thing with Boomtown, you can go searching for something, and find something equally as good you've never heard of.
I spend the early part of Sunday at Rusty Spurs checking out the dirty blues driven sounds of Solid Gone. Near to the venue is a man dressed like an outlaw in black, with piercing eyes, and a face hidden by a scarf. He's armed with a pistol and a shotgun. I ask him if he's here to keep the peace and he stares at me and nods unsettlingly. A man in rags stumbles through the road like a drunken village idiot. I'm not sure exactly what's happening at this moment. This is where Boomtown blurs the line between fiction and reality to deepen the experience with hundreds of hired actors.
I make my way towards Grandma's Front Room where I'm to meet Will from the Southampton based Headsessions Soundsystem to help with some hosting during his set. Whilst in the area I find a hidden yard with an odd mix of chairs and 1930's memorabilia with a speaker playing blues records. I see a lazy boy chair which turns out to be the most relaxing ten minutes of the weekend.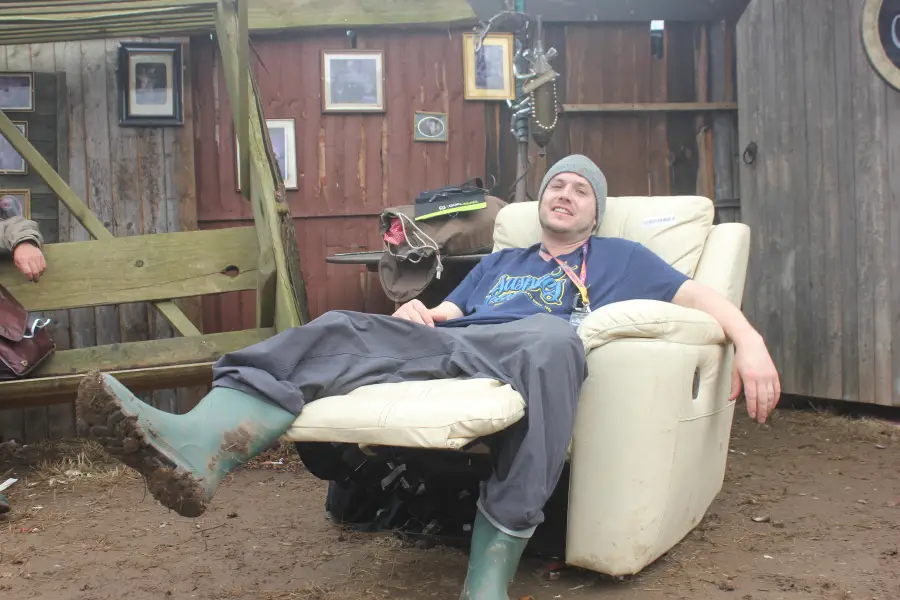 Grandma's Front Room is unique to Boomtown and worth visiting in itself. A complete house with sofas, shelves with family photos, run by Grandma and her two sisters from the DJ booth where they play banging tunes.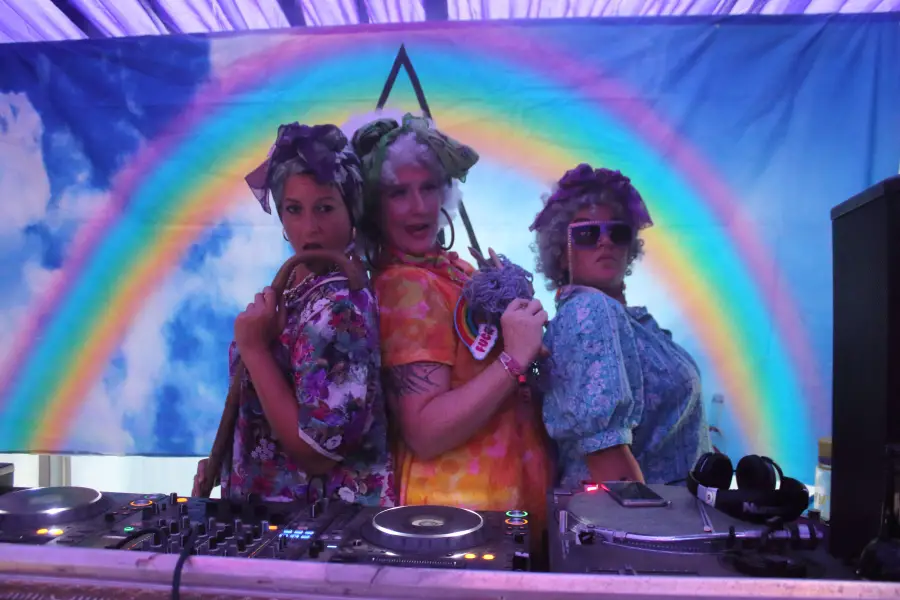 The Headsessions strictly vinyl selection of the heaviest steppas tunes rams the venue out, with a low end so heavy the whole house shakes. Someone in the audience has an inflatable giraffe (note to self: good to find mates), then the rain comes and the venue fills even more with people.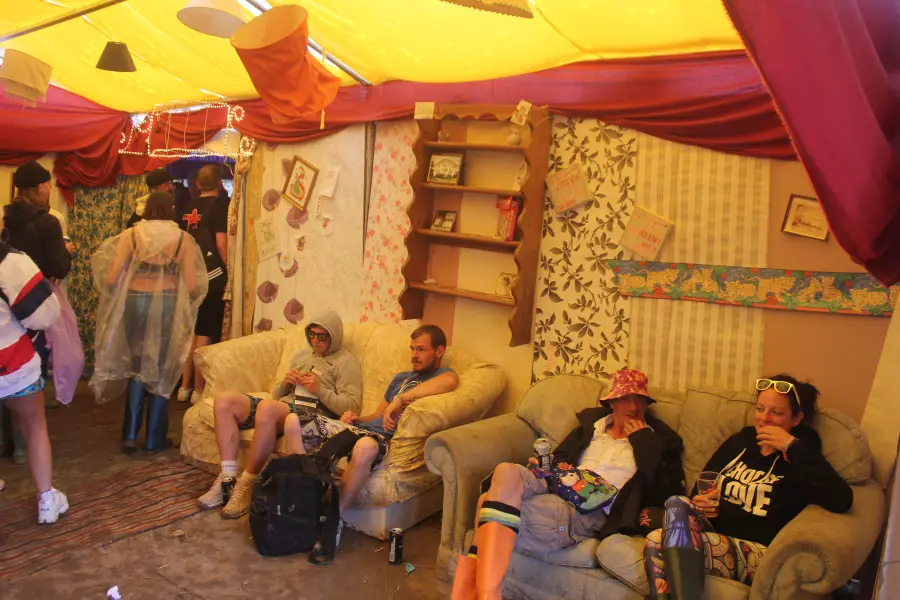 After the downpour, I walk through the Copper County towards the Town Centre and meet a group of people carrying a massive cardboard cut out of David Attenborough. I then meet pirates from the Thomas Crook Home for Destitute Pirates. Shortly after this the main walkway is cleared and by complete surprise to me and others the Boomtown Carnival passes through. At the time it feels like a Carnival inside a carnival and is a real treat; a carefully orchestrated procession with musicians, dancers in costume, incredible floats and other large-scale carried sculptures.
When I reached the Town Centre, a mustache wearing funk band are checking their levels and hundreds of people are amassing. After a few minutes, a female MC/Singer introduces the band as Deluxe and they burst into their first song, 'Tall Ground'. I had not heard of them, but the 6 piece band get everyone smiling and shaking off their Saturday night session with Liliboy, the MC showing incredible versatility, switching between singing and rapping with ease.
Keen to check out Whistlers Green after hearing there were some open mic tents with Matt Miles present I wander up and manage to find more than one tent with an open jam session in full effect. The view from the hill over the festival site is spectacular. It then rains hard again and I make my way towards Lion's Den to see Ben Harper. I catch the end of the Ben Harper set and decide to head back over towards Poco Loco to see the jazz fused hip-hop sounds of the Manchester-based outfit Mouse Outfit to finish my weekend.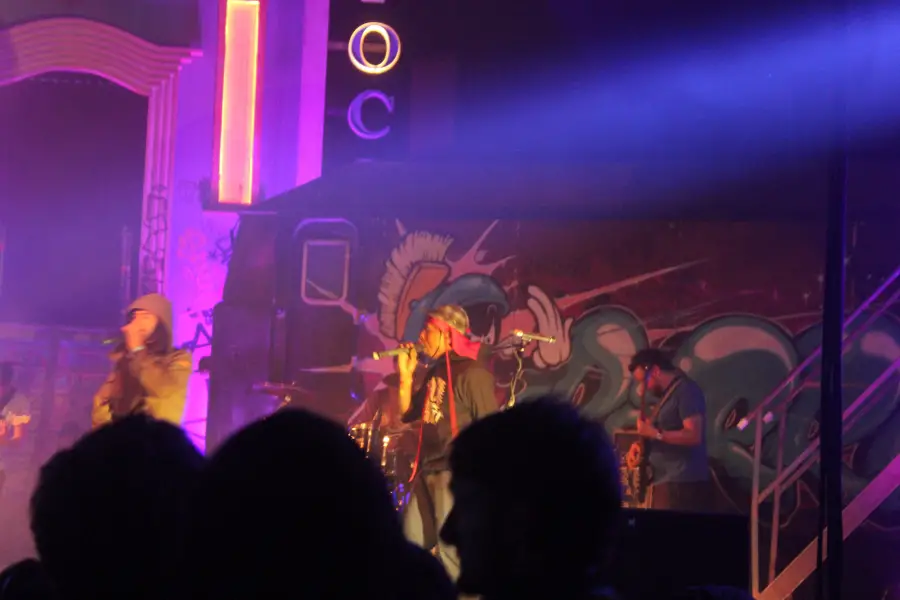 Discovering I'd missed the last shuttle bus back on Sunday to Winchester, I have to make a plan to get home and a site worker tells me that I can get a taxi from one of the gates. After walking through numerous fields and security checkpoints I find myself in a dark car park with around fifteen other wanderers searching for the exit. No one seems to know where the exit is or where in fact they are. Google maps show no clear roads and Uber definitely can't pinpoint a location. I realise I'm pretty stranded and trying not to contemplate getting the pop-up tent out again when I hear one young woman on the phone trying to coordinate a pick up from her parents. She's explaining to them how she'd felt sick today due to a stomach bug. I have a chat with her afterward and she tells me she'd taken a load of speed last night. We try to find the car park entrance together, wandering through fields next to corn fields like a scene from Children of the Corn. Finally, by a stroke of luck and lots of torch signals, she connects with her father and he kindly gives me a lift back to Winchester.
Boomtown. You did me. 30,652 steps later. To try to encompass all the sights, sounds and experiences of Boomtown within a few pages is impossible. I'll just put it down as hands down the most diverse, immersive and creative festival I've ever been a (small) part of. I'll probably join a district and get an outfit sorted to be even more of a part of it next year. I'll definitely make a really tall sign to find mates. I look forward to the next chapter. There's been enough experiences and inspiration from this year though to take me through till then.
Words and pictures by Owen Price