The twenty pound Halfords pop up tent I bought last minute holds well for the first night, but traps water like a pair of non-breathable waterproof trousers. It's also not long enough for me. I'm glad I had a relatively tame night as I've got a big day ahead. I find the toilet related puns and statements written on the back of the toilet doors hilarious. One memorable one is "open your third eye…. and wipe". I can hear the crisp sound of live riddims and discover Jamaican reggae band POI (Persons Of Interest) playing in Hidden Woods. A really soulful band with infectious grooves, they are a band I'll look out for in the future.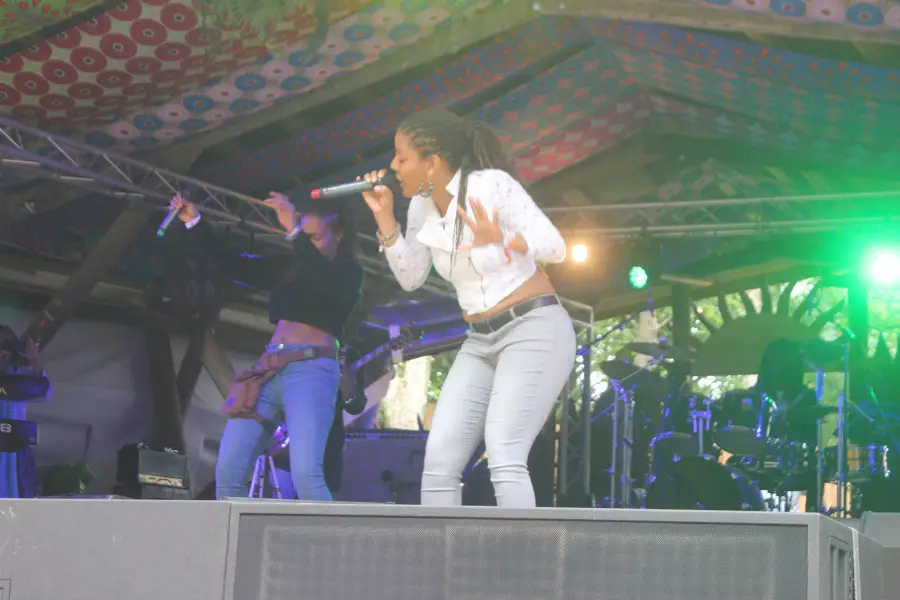 Moving on I approach the Town Centre. I can hear big brass sounds mixed with breakbeats and emceeing in the distance and on arrival I'm surprised to find the Town Centre almost filled to capacity at midday. I don't need to look in the program as the Big Dutty Moonshine Band logo is emblazoned around the stage. The energy level is high and people, hundreds of people, are dancing. This was another band I was not familiar with but they absolutely tear it down. It is also the first time I've seen a crowd surfing trumpet player.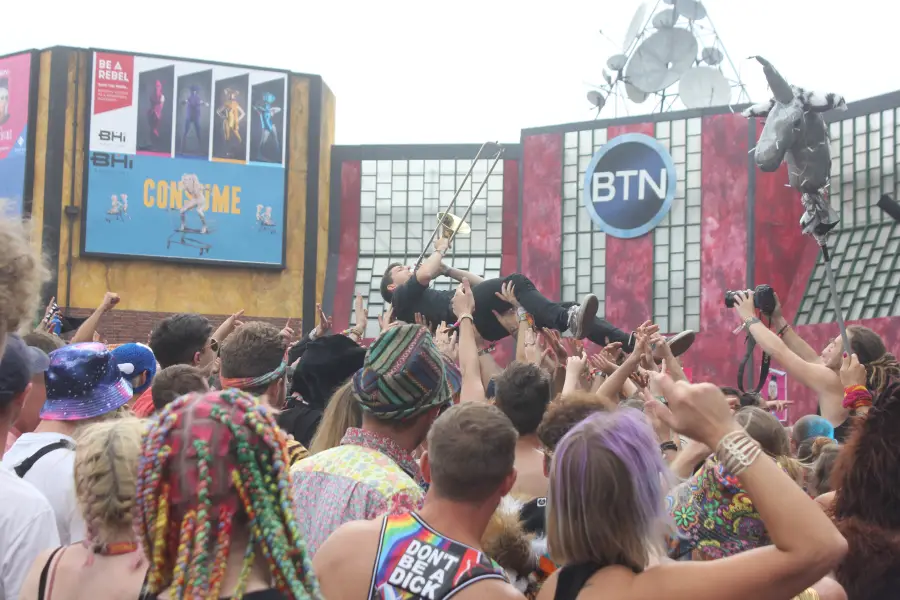 I take a quick walk into the Town Centre and encounter a large group of lads piling in for a photo. I offer to take the shot. They are from Bristol and celebrating one of the lad's 19th birthday.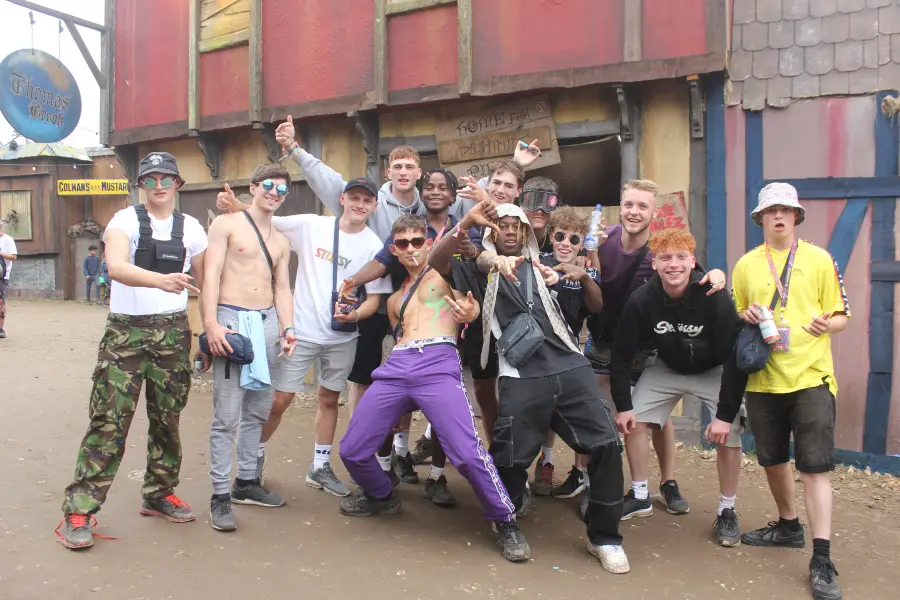 I stay around the Town Centre stage as the vibes are good and UK legends Soul II Soul are next. The play all their classic hits and don't seem to have lost any of the edge which made put them at the forefront of UK soul in the 90's. The crowd are transmitting strictly positive vibes too and is a different experience seeing everyone in the daylight in full costume glory. I meet a group of fun loving party people from Reading with a giant totem pole with a lightbulb on top. Absolute legends.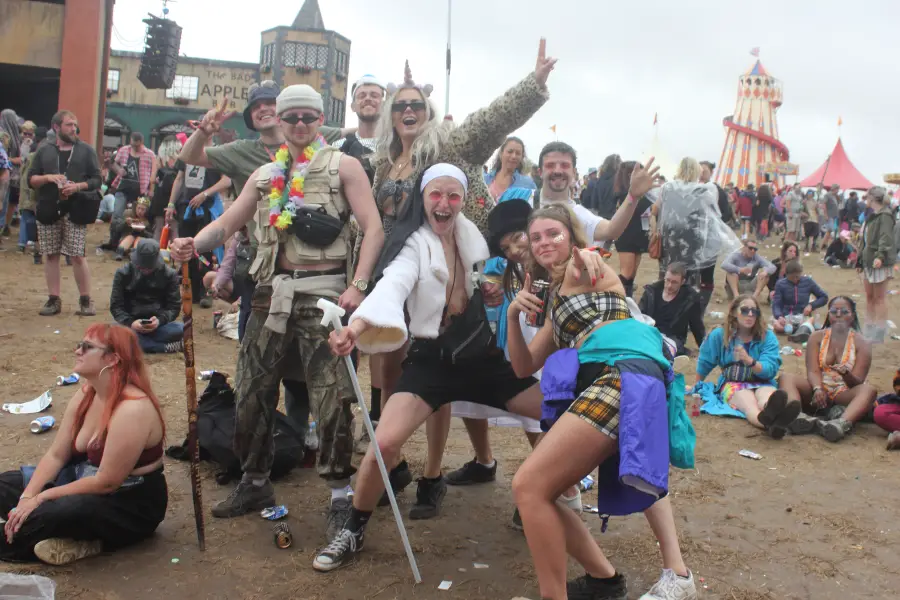 The Stereo MCs may not have been known to the younger audience, but they have the crowd dancing immediately, it's great to witness them rocking it live after so many years. I meet a mother of two who was a festival baby and of whom it was her first Boomtown experience. She's absolutely loving it and was with her mother who's wearing a psychedelic hoodie, and nine brothers.
The headline act for Saturday is the Gorillaz in Lion's Den. I'm keen to see reggae band Groundation too and decide to try and link with other mates and crew members for a few hours en route. I pass an ice cream van with a DJ booth inside and a smoke machine and people dancing out in front it like it's New Year.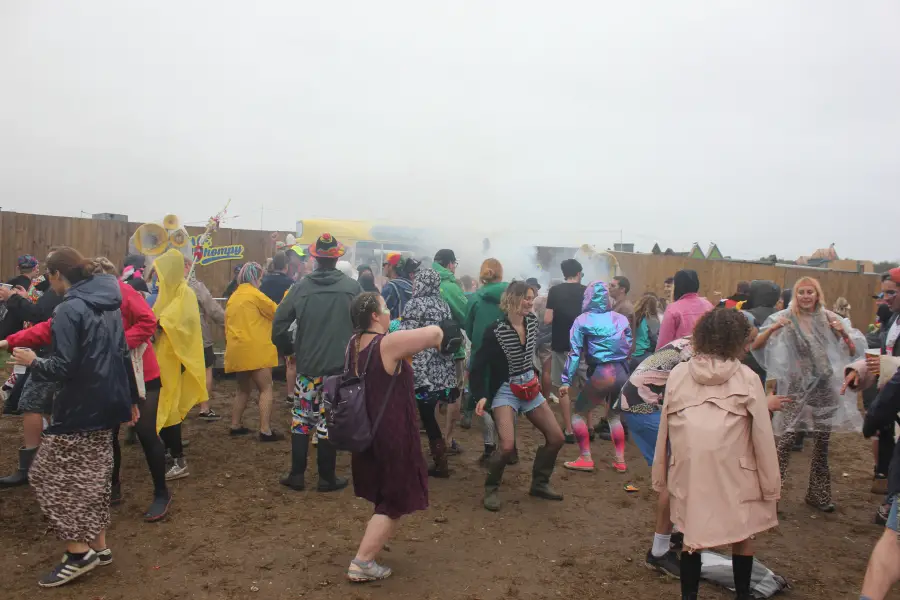 I end up meeting other people I know. Finding mates is one of the main challenges, even on a clear day. I'm told by a few people that Shpongle in the Psychedelic Woods are a must see act to close the party with in the early hours.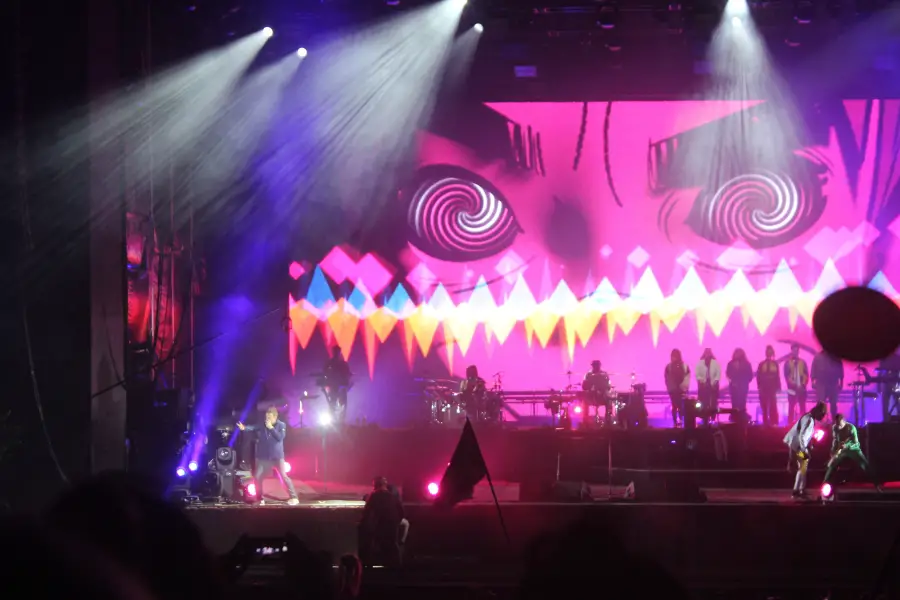 Words and pictures by Owen Price