Boomtown has grown from relatively humble beginnings in 2009 to an immersive alternate society that more and more people are choosing over other festivals. It's the oasis of hedonistic hope for many 9 to 5 workers seeking to escape the dull reality of British society for three days in August. Last year I met a young die-hard female Boomtowner who had three wristbands on from the last three years. The realisation of how long she'd kept them on was that to many Boomtown is an annual pilgrimage. After receiving a message from Yack Magazine editor Matt Miles that he might be able to get me a work pass there reviewing the festival I had to make a quick list, a quick trip to the supermarket and leave pronto. After returning from the festival 48 hours later I was much wiser as to how to prepare for next year.
Planning for a festival is a fine art, and I was fully aware that many people literally spend a large chunk of their year planning for Boomtown. The organizers urge you to 'be part of the story' and festival goers are only too keen to get involved. Based around the developing Boomtown story that depicts the development and power struggle between factions in the city founded by Nikolas Boom, the eleven districts comprise of entire film set-like environments. Considering all the buildings and structures that create this ultimate alternate reality are built from scratch, taking months to build, the imagination, creativity, and work employed are hard to fathom. After all this preparation, the festival site, at Matterley Bowl in Winchester is opened to the interpretation, creativity, and somewhat altered minds of sixty thousand people. Here is a slice of my experience at the festival.
I'm finally on foot and entering the festival site. The blended mix of sound systems in the distance is immediately enticing. 100's of acts to see, and that's just the music. Trying to save money, I bought beers and a bunch of snacks in with me, but after my bag snapped with the weight, and sick of trying to find a pitch, I offloaded some cans of Guinness to lighten the load, giving them to another work crew in exchange for camping information to help press relations. It's about 8pm on Friday and I'm heading towards Poco Loco in the Barrio Loco district. It's where the main hip-hop acts are and I need to find a map and a program. As I'm passing the hundreds of tents walking towards the woods there's activity everywhere. A smiling bloke passes me wearing a sign made of two pieces of cardboard with "Terry" written on. I have no idea. People have glitter on their faces, some are in costume and already I'm seeing a range of jackets. Sportswear, pirate jackets, captain jackets, woolly jackets, retro jackets, and ravers in anoraks. All within twenty steps. I don't have a jacket, and I'm a tad chilly, more importantly, though, I must remember where I'm camping. Walking through the woodland the people passing me are looking pretty clean and well kept. This is where everyone looks their best. Appearances generally go downhill from here.
I was caught up walking with a wave of people until a beautiful sunset made me stop in awe. Chatting to a steward who had been here for a week I asked for directions to Poco Loco and she said it was Downtown, which was down the hill of course (I like the logic).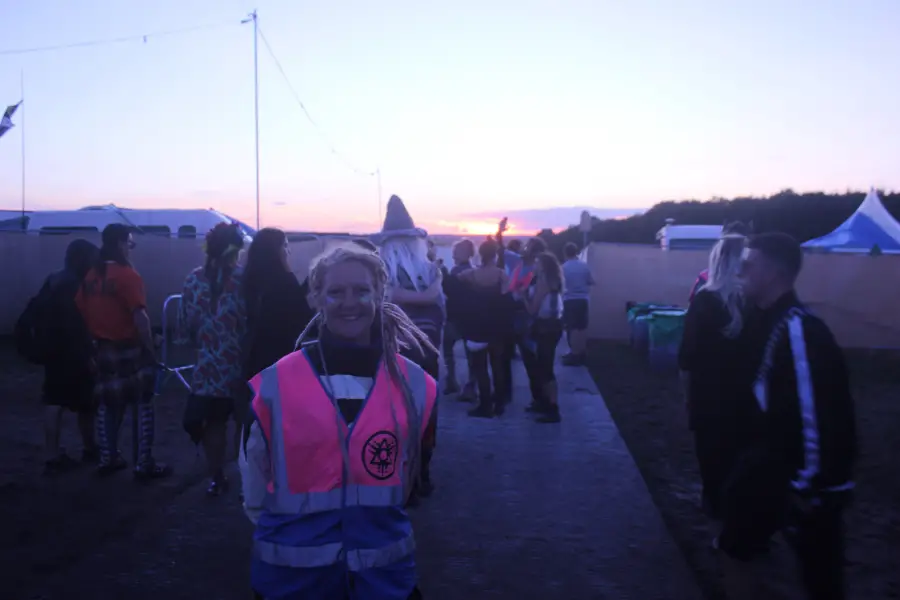 I manage to buy a program and looking for somewhere to perch I sit on a giant inflatable seat. This is the view. I notice a group of young women behind me in incredible outfits and decide to ask them who they are here to see and they reply "my mates". This reminds me that seeing mates and meeting new people is as big a part of Boomtown as seeing the main acts. More mates join them and they agree to a photo.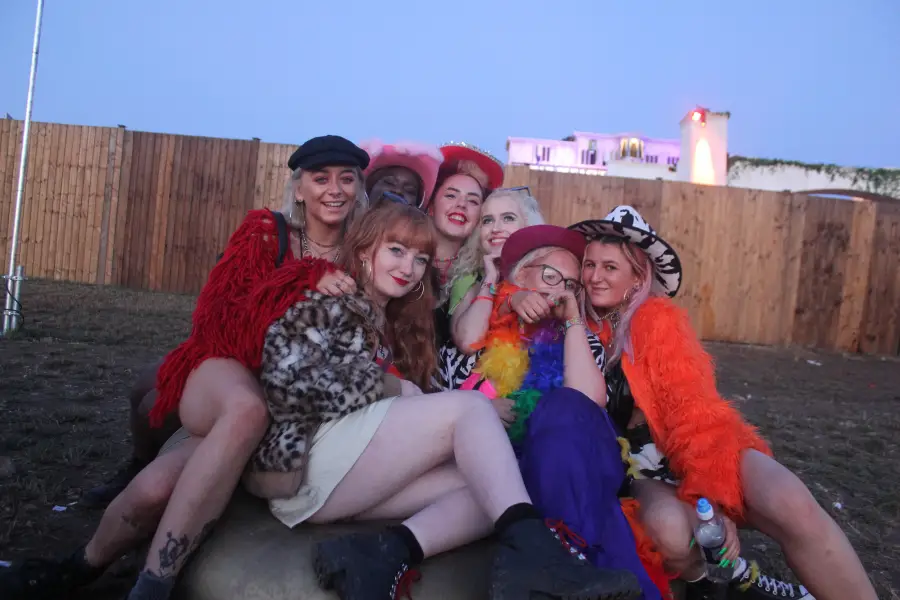 I continue on, keen to get to Poco Loco to catch Lowkey followed by The Nextmen, and Chali 2na and Krafty Cuts, a dream line up for any true school hip hop head.
Walking down the hill I can hear extremely heavy sub-bass music pulsating out of the woods. Following my dub radar, I do an abrupt right turn and wander through the trees. Inside, the Tangled Roots sound system is at max and a look at the line up reveals it is Bristol-based producer Kreed at the controls. This is where I belong for now. Following his set, Croatian producer Egoless works the forest venue into a large pulsating crowd with his hypnotic mix of bass driven rhythms. Heavy vibrations indeed.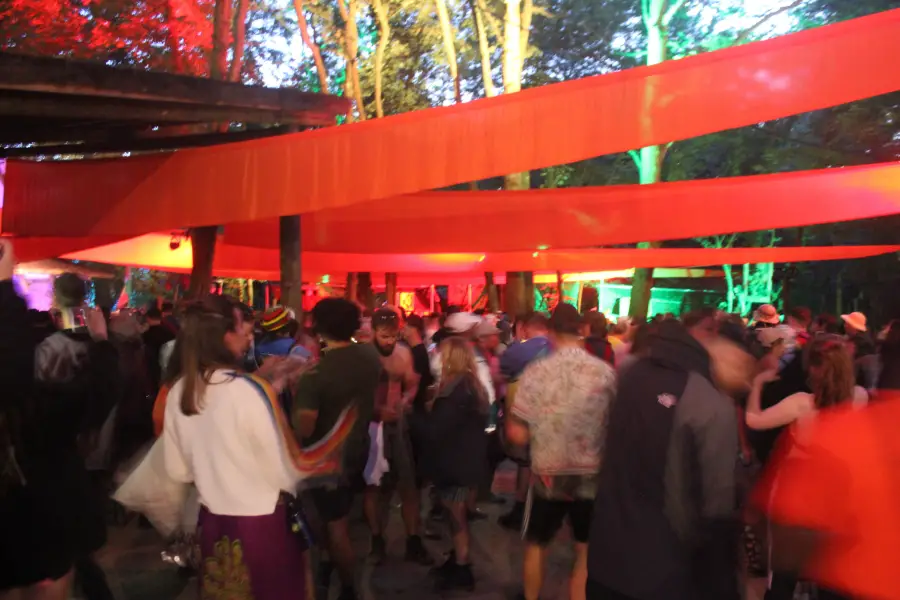 After skanking out for a while I continue on my hip hop quest but again it's hard not to be distracted by reggae rhythms, this time coming from the Hidden Woods. I wander up and a reggae band called They Say Jump are smashing their set. It's warm at the venue, the forest floor comprises sand and the environment is perfect for live reggae. I could happily stay here for the rest of my evening, but force myself to continue exploring as I haven't seen 5% of what the festival has to offer.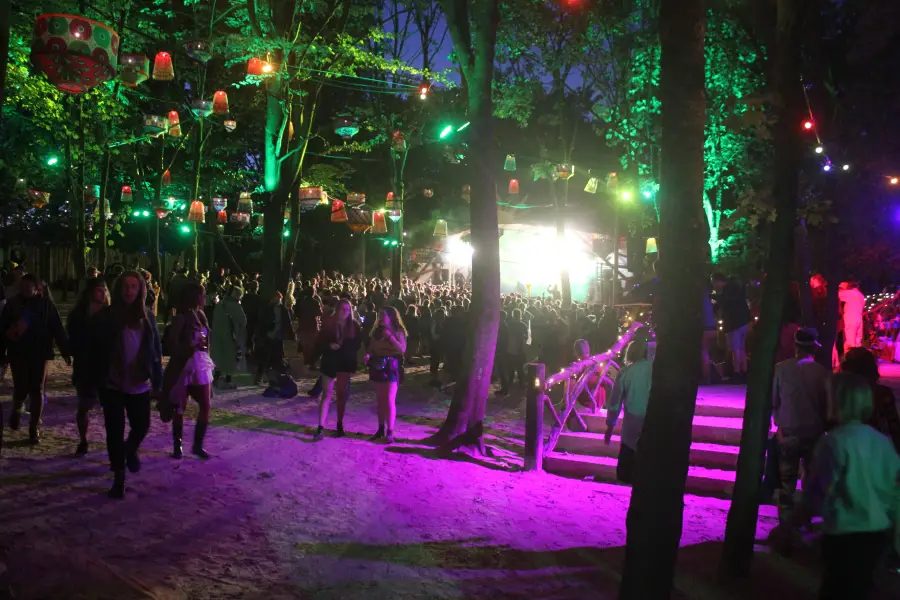 The contrast between the Boomtown districts is stark. Approaching the downtown area, the structures are modernised, adverts glow and the futuristic video screen technology is abundant, courtesy of Bang Hai Technologies.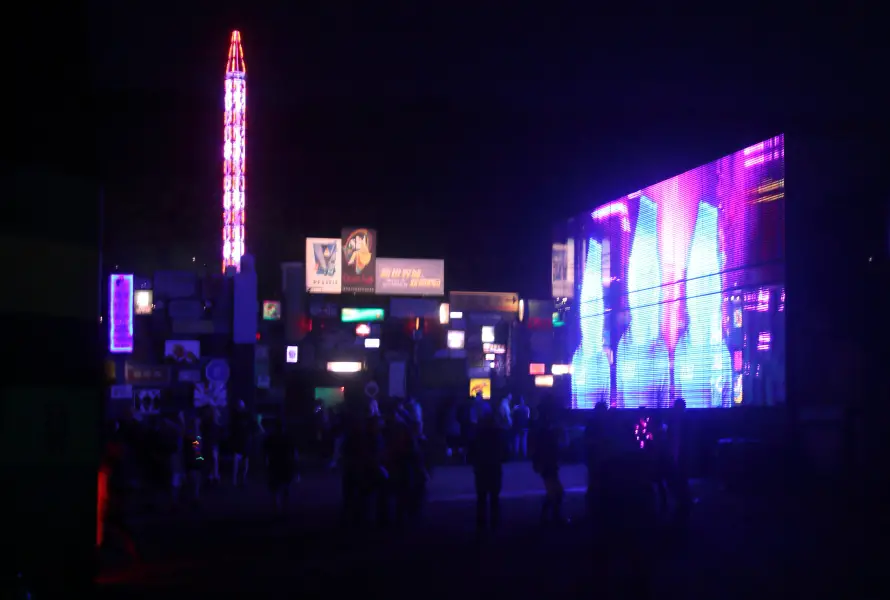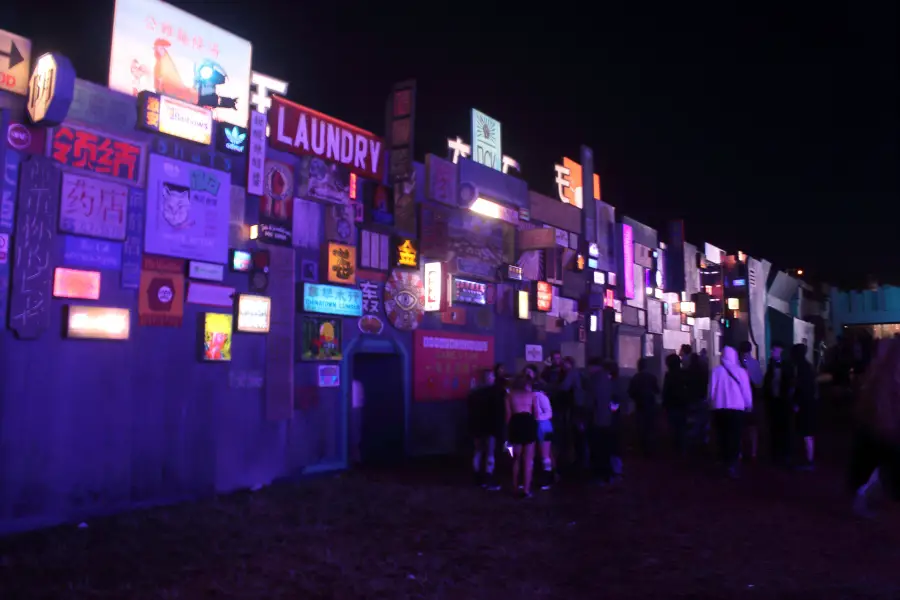 Reminiscent of Chinatown with illuminated adverts and lights I pass through into Diss Order Alley and peak into a full Hangar 161 venue to the sounds of hardcore punk with The Clowns playing to a lively crowd. There are bands and acts to suit every taste here, it's just knowing where to look.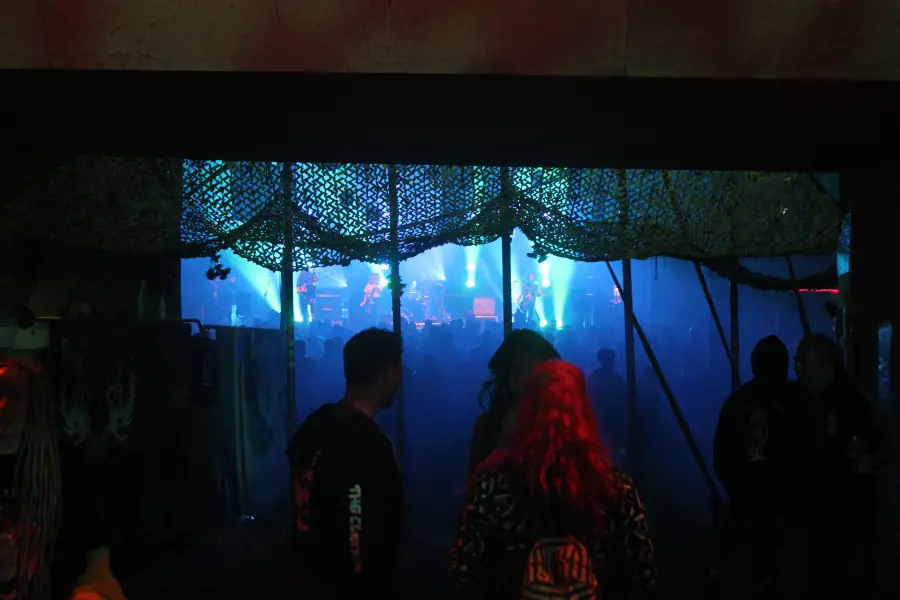 Finally, I arrive at Poco Loco, in the Latin-themed district Barrio Loco. The High Focus MC Coups is coming to the end of his set. There's a big crowd in attendance and Lowkey doesn't disappoint. It's rare to see the London-based MC perform, let alone outside an urban club setting and when he opens the tune 'My Soul' getting the crowd to sing the chorus acapella it's clear he's here to move minds and hearts. There's a strong universal hip-hop connection in this diverse crowd. The participation in choruses to the songs 'Terrorist?' ("I'm all about peace and love") and 'Long Live Palestine' and the reaction to his tune 'Voices of The Voiceless' recorded with Immortal Technique showed this; lyrics as relevant as ever. He followed, with his infamous Fire in The Booth rhyme, 'Alphabet Aerobics', and more recent tracks, taking the crowd on a journey through the issues of our time. From the arms trade to the corporatisation of America under Trump, to the refugee crisis, to the Grenfell tragedy; Lowkey has been a consistent voice tackling topics that other rappers can't or won't. Listening to conscious hip-hop wearing wellies surrounded by people of all ethnic backgrounds from all over the country gathered together for strong political messages was perfect for the beginning of Boomtown.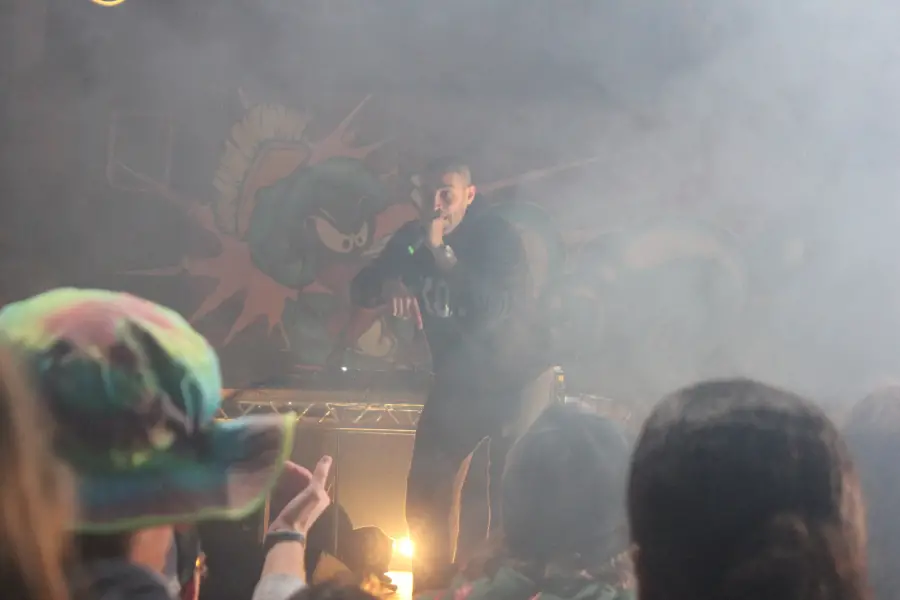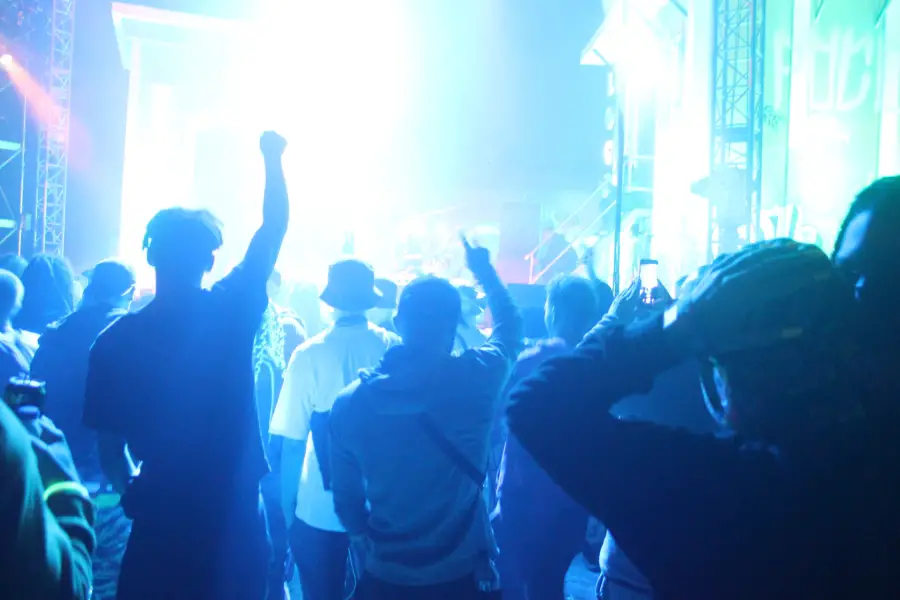 I had heard that a friend of mine from the rising Bristol-based trio Waldo's Gift was playing over at the People's Front Room so I head back over to Old Town. The Nextmen were on but meeting up with mates took priority. To get there I had to climb around 200 steps to the Hilltop, known as 'The Steps'. Before embarking on this Brekon-Beaconsesque hike I stopped to speak to the steward. I said to him, "I bet you've seen a lot of characters" to which he replied, " a lot of people k-holing actually". I asked him how he knew that and he said that more than once people remarked on passing him that their "mate had just taken ket."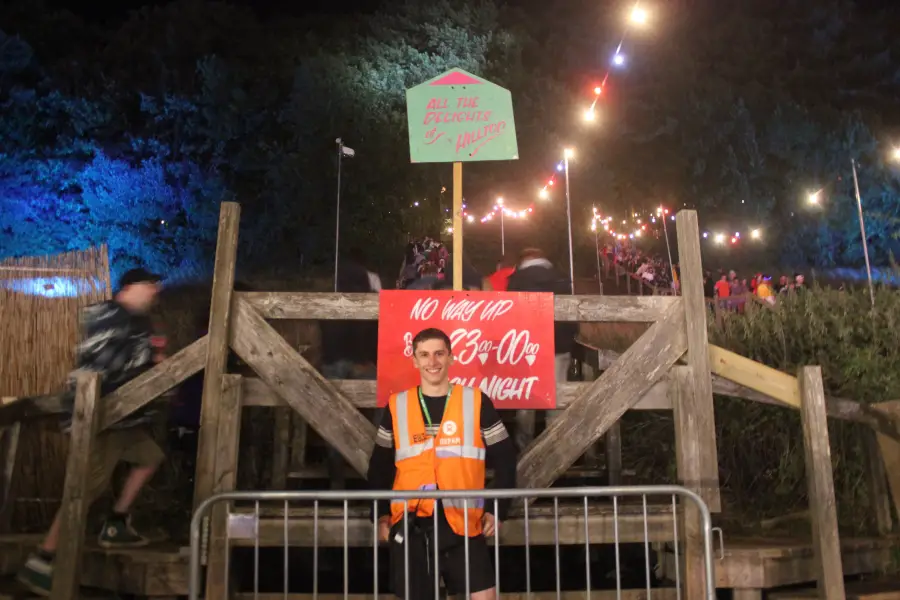 True enough as I was climbing the steps there was a couple in front of me who decided to stop halfway up the steps and lie down in apparent bliss suspended in neurological wonderland and look up at the stars together, embracing. Before stepping round them I look back to the view of Downtown.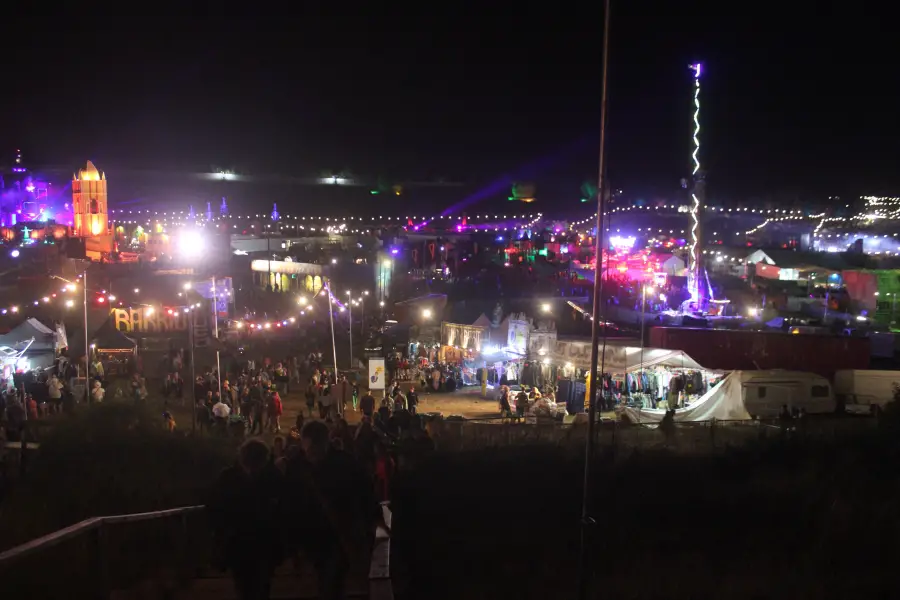 Walking through Old Town really is like stepping into 1903. There's live music everywhere. I pass many venues, playing rock, blues, fusion. The streets are bustling. I reach the People's Front Room and there appears to be a jam session in mid-swing.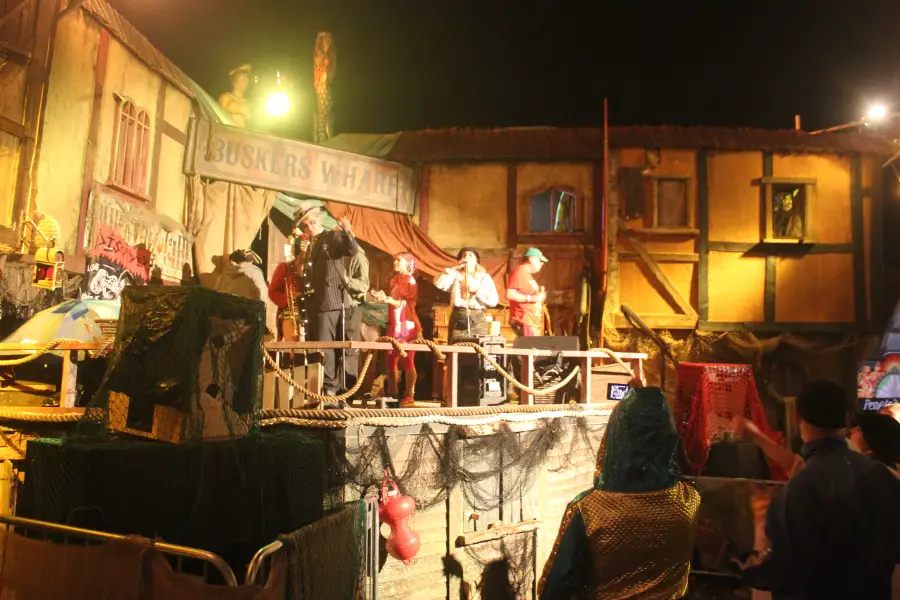 At around 11pm I'm chatting with friends outside the People's Front Room and suddenly a woman bursts onto the middle of the street, lights a flare, and a procession walks through. I can't work out what it was about until I realise there are a lot of people with fish masks on and they're carrying a giant fish sculpture in a fish worshipping ceremony. There are actors on the balcony chanting 'bring back fish'. I later discover these are the Fish People.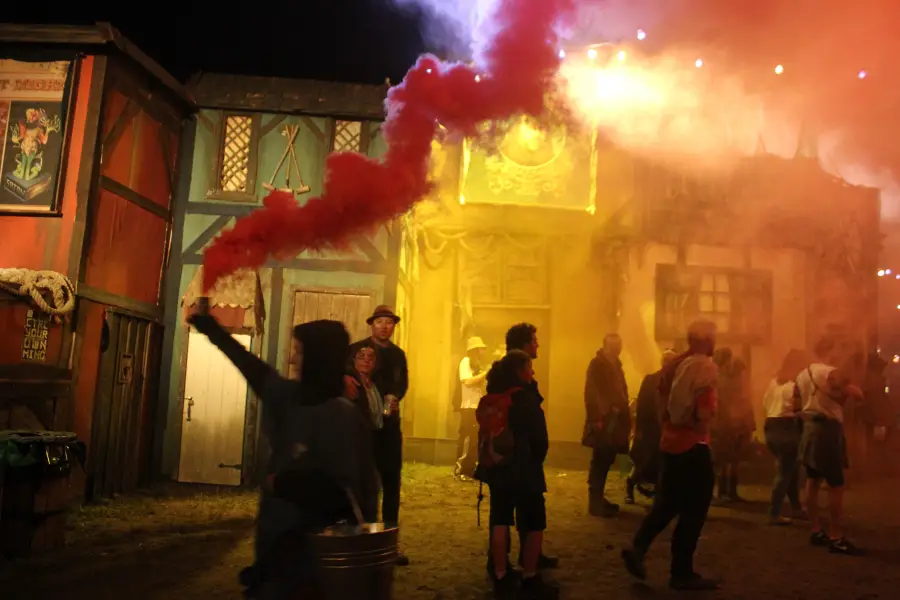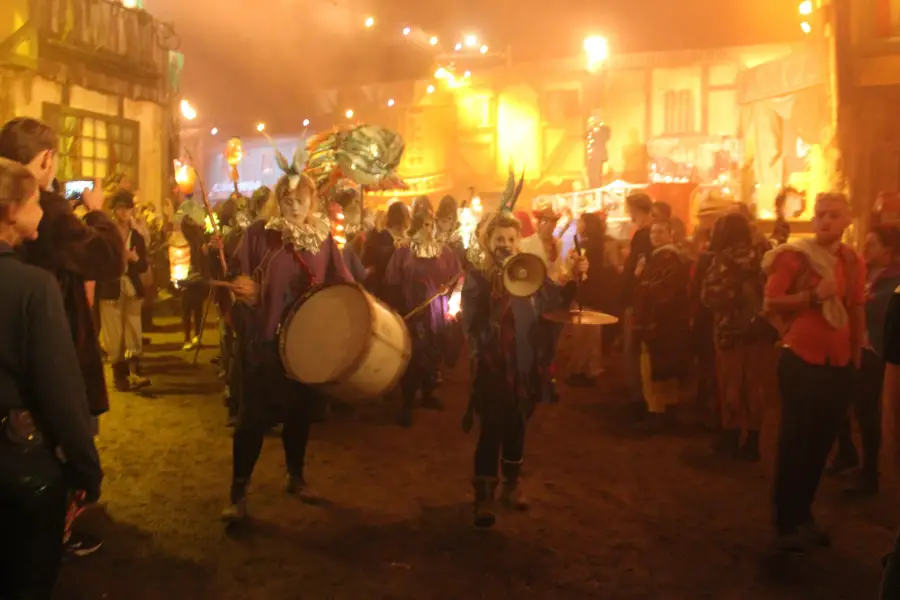 After catching up with friends at The Peoples Front Room we go for a walk, with no real objective. That's the thing about Boomtown, you can plan meticulously, but also if you just want to explore you'll find unexpected ways to enjoy yourself and the festival and people will reveal themselves to you. We decide to go on some dodgems that are blasting out drum and bass.
After this, I head back to Poco Loco to catch Chali 2na and Krafty Kuts via Disorder Alley. Walking through we spend a short time in a very strange cabaret club before discovering an underground venue that was full of people broking out to some filthy jungle.
On arrival to Poco Loco for Chali 2na and Krafty Kuts, the venue is still filled to capacity. Chali 2na takes to the stage as the veteran MC he is and immediately has crowd participation. This duo are the perfect combination, huge bass driven beats and 2nas baritone rap flow. Great rounding off to my arrival. At around 1.30am I decide to save some energy for tomorrow after this and head back through the site to my campsite and catch Ed Rush headlining with 20 Years of Virus Records at the laser light-firing, fire-spouting behemoth of a structure that is Sector 6.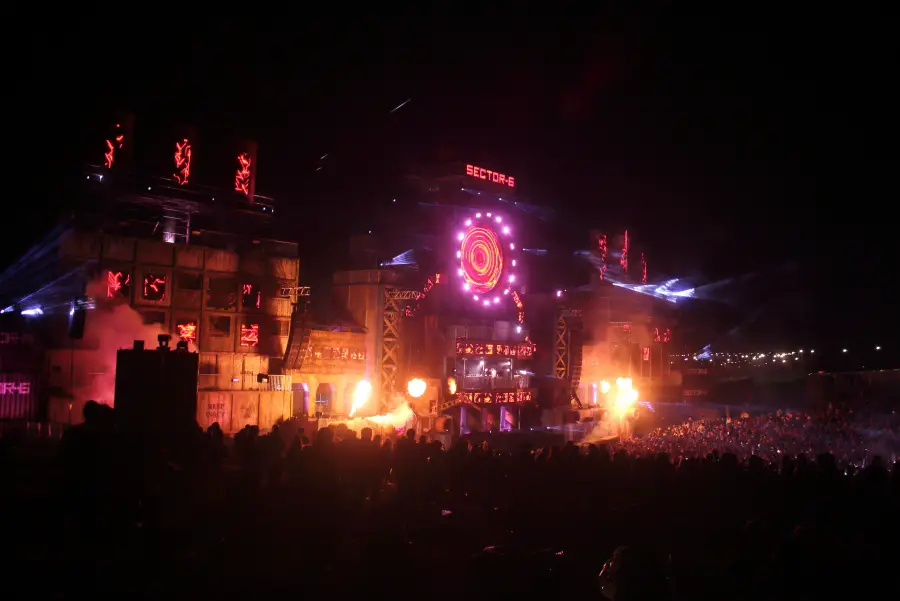 Words and pictures by Owen Price