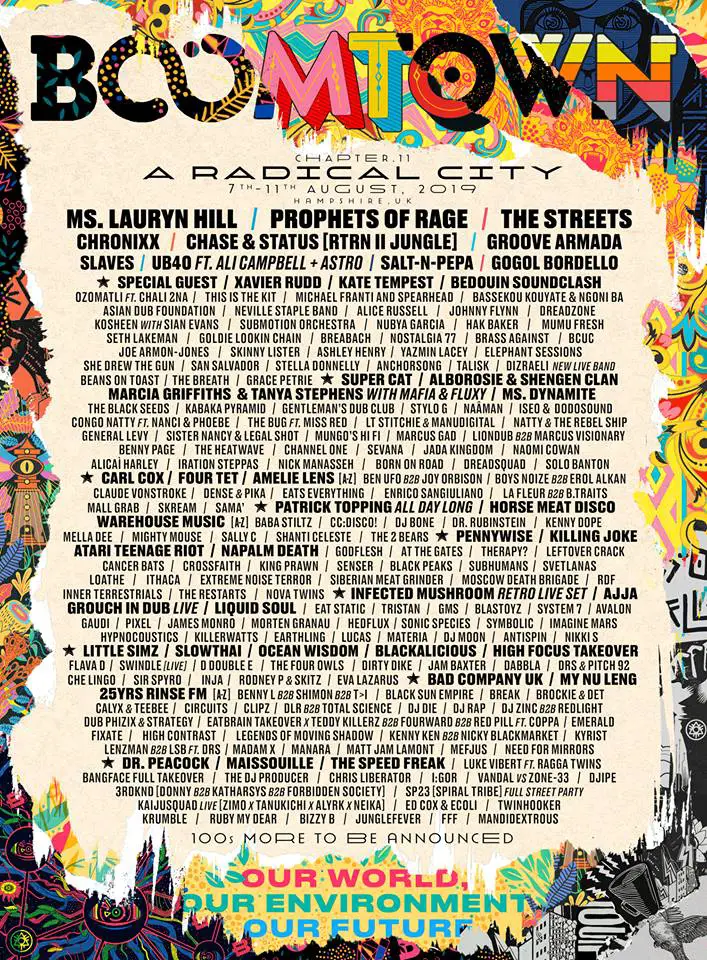 Boomtown Fair have released at least the tickling tease of a line-up. With the countless small venues and stages scattered around the site, there is obviously plenty more still to come but this makes for a tasty treat for those who already have their golden ticket. The announcement came alongside a fake-out but much welcomed video claiming the true headliners to be OUR WORLD, OUR ENVIRONMENT and OUR FUTURE. The festival has committed to a renewed and much tighter green vision to go alongside that statement and you can read more about it on the website.
For now, though let's get stuck into this line-up poster and give you the Yack Attack six-year veteran ones not to miss list, you know you want it.
Ozomatli ft Chali 2NA
The Boomtown's begin to blend into one when you've been to as many as we have, so I can't quite recall how many years ago it was that Ozomatli graced the Town Centre stage. I do know it was long enough ago and the capacity was so much scarcer that they were able to take their entire orchestra down into the crowd and march around and around the center speaker. Out of all my memories of Boomtown this band stand tall as one of the glittering highlights, they were phenomenal then and with the back up of rap's golden giant Chali 2NA (who put on his own explosive set with Crafty Cuts last year, you can read the full review of when they came to Bournemouth here) they will no doubt be unmissable once again. Be there. Trust.
This is a band that blend and merge genres so well you cannot see the seams. Bring your dancing shoes and be ready for the Ozomatli party.
Cancer Bats
The Cancer Bats kick ass. I suspect they'll be welcomed into the new home of The Earache Factory which is a venue I'm sure they'll then set about tearing to the ground. I saw them about 5 years ago in a small little dive bar back where I live and can attest to the level of sweat soak they put themselves through and the crowd mirror that right back at them. Bring water and get ready to fist pump until your arm goes numb. Most likely to bring the roof crumbling down around them with chugging juggernaut riffs and roaring vocals.
Inner Terrestrials
I don't know how many times we have to tell you that the Inner Terrestrials are one of the best bands on the line-up year after year before you start listening. The Devil Kicks… sorry Hangar 161 has been our home from home for many a year now and the guys putting together that consistently excellent line-up have had the Inner Terrestrials back for every single Boomtown. Their set is one that never disappoints, they always manage to strike the right chord and it's amazing to watch the crowd build and build year after year like a right of passage. Conscious lyrics set atop screaming guitars and delivered with the passion and honesty that let the message soar, the Inner Terrestrials bring all the tribes of Boomtown together under one roof for a moment of unity and righteous fury. We'll be there again this year, see you there folks.
Gogol Bordello
Another contender for best of Boomtown past but an act that for us completely embodies the spirit and energy behind the Boomtown Fair. Gogol Bordello and their ramshackle crew blend together different styles and happily show you the stitching. They're a band that stands straddle-legged over genre and country divides with arms crossed and a smirk on their face. Eugene Hutz is a frontman without compare and feeds on the energy poured into him from the crowd. They were fantastic last time and this time they'll be goddamn stupendous. Honestly, if any band were to compose the Boomtown theme tune, it should be them.
So that's our pick of four of the not to be missed, who are you most looking forward to?
Check out the accounts of our previous Boomtown adventures here.
Words by Matt Miles