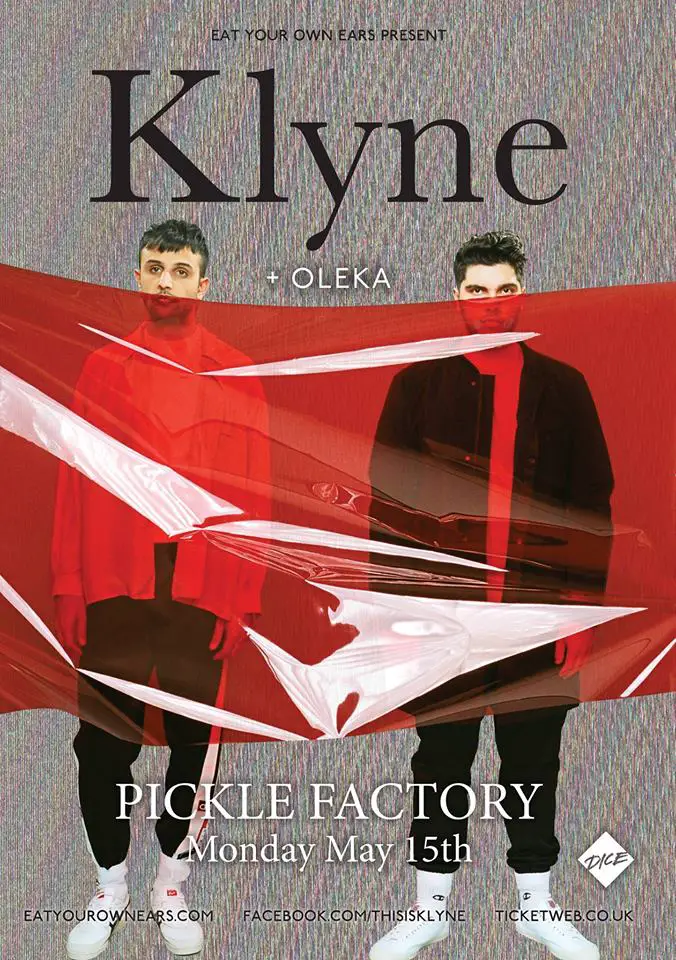 If you haven't been to the pickle factory before, or like me hadn't even heard of it (shame on me right?), you will probably have very limited expectations of everything involved in seeing live music there. My expectations evolved throughout the night, starting with a mild dose of apprehension; arriving through a shady back door of what looked to be an old industrial unit. Once inside, it became more apparent that this was no run down old (pickle) factory. This was a very respectable little venue that had a dusty yet charismatic appeal. The stage lights burned a deep purple which added a mysterious hue to the room and as more people filed in The Pickle Factory came alive.
Oleka opened the night with a silky clean electropop sound mixing cutting synths with clean guitars with wondrous vocal harmonies. Maybe not as tight as they could have been as a unit, Oleka did not fail to impress with a dynamic set that didn't let your attention waiver. It was at this moment my expectations changed once again; if the opening band were this good there would be no awe left in me for Klyne.
It looked as if Oleka's set had kicked up all the dust from the floor, as it turned out however I think they just had a smoke machine in the venue. However any dust that was still unmoved would soon be airborne as Klyne opened with 'Break Away', a synth laden pop track that is so typical of Klyne's sound. The dutch duo had become a trio tonight thanks to the live drummer that had been installed at the back of the stage, I say installed because he was so unbelievably on-point that he could well have been computer generated. Having a live drummer really brought home the feeling of seeing the band in the flesh, as playing along to drum tracks really detracts from this kind of electronic act. After playing their third song, 'Wit U', there was danger of the set beginning to merge into one long smush of electro-pop, however my concentration was quickly snapped back into place with their latest single 'Still Not Over You'.
It was here that vocalist Nick Klein really showed what he is made of, his beautiful, melodic vocal range shown-off to its full. Honestly one of the best live vocalists I have seen. Not only did 'Still Not Over You' prick up my ears, but it brought the crowd to life dancing and grooving to the disgustingly catchy tune. Soon after came Klyne's next single 'Sure Thing' which turned the atmosphere up another level, I was thinking at this point they had surely peaked- surely there was no more Dutch goodness left to give. I was wrong. Klyne wowed with another two tracks before finishing on 'Paralysed' their almost ethereal sounding banger, that rounded off an incredible night of live music perfectly.
You really, really must check this band out. From a flawlessly tight set, to Nick's utterly incredible vocals there is truly nothing that will disappoint you about Klyne. These guys really have a sound that is capable of translating in a small venue like The Pickle Factory and would more than hold its own in the bigger venues this world has to offer.