Canada. It's a country. It's got some people in it. Some of these people are drivers. Some of them are bank executives. One of them is a scientist. Two of them are Maybelleen. Right now, these are the only two people in Canada you need to be focusing on. Let's do this.
Maybelleen are a Dream Pop duo from Montreal, Canada and consist of brothers Peter and Charles Camiré. I've not had a lot of experience with Dream Pop as a genre, but fuck me. I put these guys on and ended up dancing naked around a living room with some girl in Brighton with a beer in one hand and a sock puppet on the other. If that's anything to go by, experience is for telesales.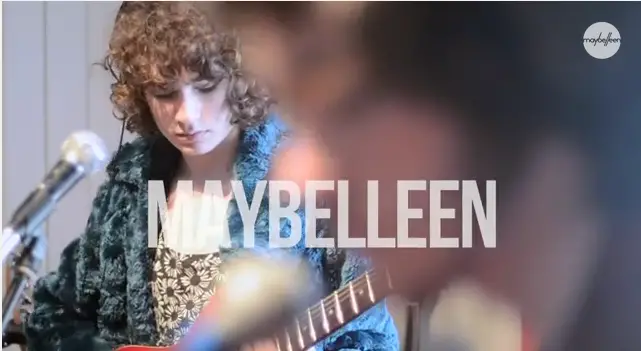 The ever-present drum patterns, ambient guitar sequences, formidable synthesizer usage and early Beatles-esque vocals will do one of two things; totally chill you out and put you in a position you really, REALLY don't want to move from,  or make you want to get up and float around bobbing your head in a funky ghost sort of way. Maybelleen dropped their 8-track debut album 'Gold in our Hands' in February 2014 and Yack! are going to dissect a few songs for ya. You're welcome.
The opening track is daintily named Bring To Light and grabs you by the mind-balls with a pounding drum sequence which eventually descends into a discordantly beautiful 4-part harmony followed by the main motif for the song. The sound itself would not be out of place on one of the stages at Glastonbury, accompanied by a throbbing mass of hundreds of dancing hippies – one of those lovely moments where you know that no-one in a 500 yard radius of you is having a bad time.
Skipping to track three, Emily is a charming and stylish contribution to the record, the Camiré brothers once again showing off their flair for vocal creativity, with a perfectly placed 'shredded snare' sound from the drums as a backdrop. If I told someone that in places the vocals were whiny and slightly off-key, they'd take it as a massive negative when in fact, these characteristics are what give the entire album that perfectly fitting psychedelic sound that could easily be mistaken for Brit pop. This could be because that very same psychedelic sound is highly reminiscent of the vocal style which sent The Beatles soaring into the skies back in the sixties. Just to give you an idea. Also, the lyric "Making love with every star in the universe/That's all she wants to do tonight" is the reason this is one of my favourite tracks on the record.
What If The World is probably one of the most fun songs here. It immediately faces us with one of those brilliant, unanswerable conundrums about the planet on which we live. Its upbeat drum machine beat is perfect for that driving song feel and will definitely be a highlight in a live set. Some pretty guitar work is evident here, not only in the intro and chorus but also as a sidling, snakey accompaniment to the verse melody.
I'll reiterate that I'm not an expert on this type of music, but I gotta say I loved 'Gold In Our Hands' and it'll be taking its place in my personal music collection very shortly. What's that? You wanna know what more of the tracks on the album sound like? I'd say probably DEFINITELY buy the album available on Bandcamp for a measly $7.
Maybelleen have recently completed a British tour, but if you feel like catching a live set (which we recommend), upcoming gigs include a free gig at Quai des Brumes, Montreal on 7 August.