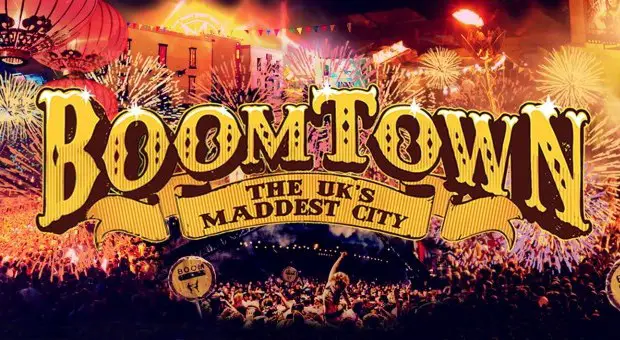 First off, it's worth bearing in mind that not only was I a Boomtown virgin until 6th August, I was a complete festival virgin until 16th June this year. As a 21-year-old who has also been an active musician for 11 straight years, I understand this is pretty criminal and deserves being hung by my ankles in a Glastonbury tent stage and beaten with ukuleles until I know all the lyrics to a Volbeat album or something. I, however, am in the process of remedying my festival absence by administering a concentrated dose of festival action over the course of this summer. As part of my festival introduction programme, I had the pleasure of attending Boomtown festival in Winchester's Matterley Estate from 6th – 11th August and I therefore present to you the Boomtown virgin's review *trumpets*.
We got there on the Thursday (as I've learned is always recommended at weekend festivals to get a feel for the place). My first vibe on breaching the perimeter at the festival was one of slight disorientation. I'd heard rumours and comments about crazy 'districts' packed with stages, activities, bars and other secret happenings, huge party floats roaming around, street performers, buskers, colourful costumes and accordingly, as we were making our way, I was waiting anxiously for something to jump out at me or take me by surprise. The anxious feeling was probably a result of the previous two hours' worth of UV exposure while I was waiting in the gargantuan queue for the admission gate which I think might have cooked me a bit. When we passed through some of the main areas, however, it became clear to be what I had been waiting for.
The site was huge. Probably not as big as some of the more mainstream festivals, but I think the fact that the camping areas were semi-integrated into the nine districts of Boomtown meant that you had to scale the entire site to get from one place to another. This is awesome for your thighs.
Initial aesthetic highlights included the view from the top of the hill of the Arcadia spider stood there in the middle of a sea of tents and semi-erect structures. A particularly pretty sight at night when it's farting out flames and fireworks and stuff, spectacular is an understatement.
One thing that appealed to me as I was walking around was the sea of sound I appeared to be drifting in. Music from each of the stages merged in the walkways creating a curious soundscape which pulled you into whichever stage your mind was attracted to.
But what about the MOOOZIK?
Well, I started with the bottom half of a set by Sonido Vegetal, a mental blend of rock, reggae and gypsy punk from Spain. Very impressive. We then caught several stellar performances courtesy of The Wailers (as in Bob Marley and…), Russkaja (Russian turbo polka metal. Trust me, it's a sound no-one would be able to turn their nose up to) and Hayseed Dixie, a band who focus non-exclusively on country and western covers of AC-DC. That's right. Read it again if you have to.
By the end of the first day, it was already clear to me that this wasn't your average festival – the genre menu seemed to be anything that wasn't mainstream music which frankly is vital for today's industry.
Before we arrived at the festival I'd heard about how Boomtown started small and has grown rapidly over the six years it has been active, and also how 'veteran' Boomtowners were saying that 2014 is the last year that it was going to feel anything like it did in the beginning. As I drifted with the Yack! crew from place to place, I definitely saw what the vets had meant. Everywhere had the feeling of a place that had outgrown its crazy, multi-coloured, genre non-specific boots. I saw what they were trying to do by immersing the audience in their world, but I felt that it would have worked better with fewer people. For example, once you were inside a district the saturation worked, you felt like you were really there. Travelling between districts, however, was sometimes complicated and whatever illusion was created by the districts was destroyed by the sight of the scaffolded, cardboard-brown backs of the fake walls that had once been the Town Centre or Barrio Loco.
Another gripe I had with the festival was along the theme of timing. Timing issues cropped up on several instances, including a set which was cut short halfway through a song where the artist in question (Sister Nancy) pretty much just stopped performing and walked off stage in front of a couple of thousand people on a STFU and GTFO basis. This was, apparently, on account of going over her allocated set time. Another example of timing issues was when things like information points and other attractions didn't stick to their opening times as advertised in the programme meaning that we missed a few of the things that were happening around town.
SOME GOOD THINGS, THOUGH…
The festival run a thing called an eco-bond scheme which is where they add a tenner to your ticket price and at the end of the weekend, you bring them a bin bag full of rubbish that you picked up and you get your tenner back. Judging by the huge pile of wank that people brought to the drop-off point on Monday morning, the scheme was a success and it's kinda baffling, on the other side of it, that the bigger festivals don't run something like this.
TOILETS… were not terrible. Sure enough, they were all packing mountains of shite by 10am on Friday morning, but the toilet blocks were situated on makeshift roads and were continually emptied by the magic shite truck which went round in a loop lapping up its sloppy cargo all day. Lovely. They didn't have toilet paper, but anyone who doesn't bring a roll of TP to a festival is a stupid motherfucker and deserves to have their faeces smeared round their cheeks all weekend. At least.
Something that struck me from the first day to the last was the sheer amount of drugs going around. Given Yack Magazine's and indeed Boomtown's audience, I'm not going to advertise this as either a good or a bad thing, but we must have been approached by strangers looking to buy or sell something at least four times a day on average. Whether or not this is heaven or hell for you, a seemingly endless stream of 16 year olds asking for NOS is going to piss you off after a while (I'll take this opportunity to remind the reader that this is called the Boomtown virgin's review for a reason).
Despite the shit things I've listed here, there are shitloads of things that totally trumped them and made it well worth attending the festival. Things such as the Wandering Word stage where my eyes were opened to the world of spoken word and truly alternative music, falafel ('nuff said), being sent on spontaneous quests by Boomtown officials in a Bethesda RPG manner, sick fools playing with fire on a pirate ship, the Devil Kicks Dancehall and, of course, the plethora of music and other entertainment which I believe is being covered in another section of Yack!'s Boomtown coverage.
Boomtown 2014 was an experience I don't think I'll forget in a hurry and that, for me, is what completes a festival. If you're looking for a thoroughly different festival experience, be there.
Words by Matt Gibbons