Below are a collection of interviews gathered from the cast, crew and creatures of this years Boomtown.
THE DAVID ATTENBOROUGH FAN CREW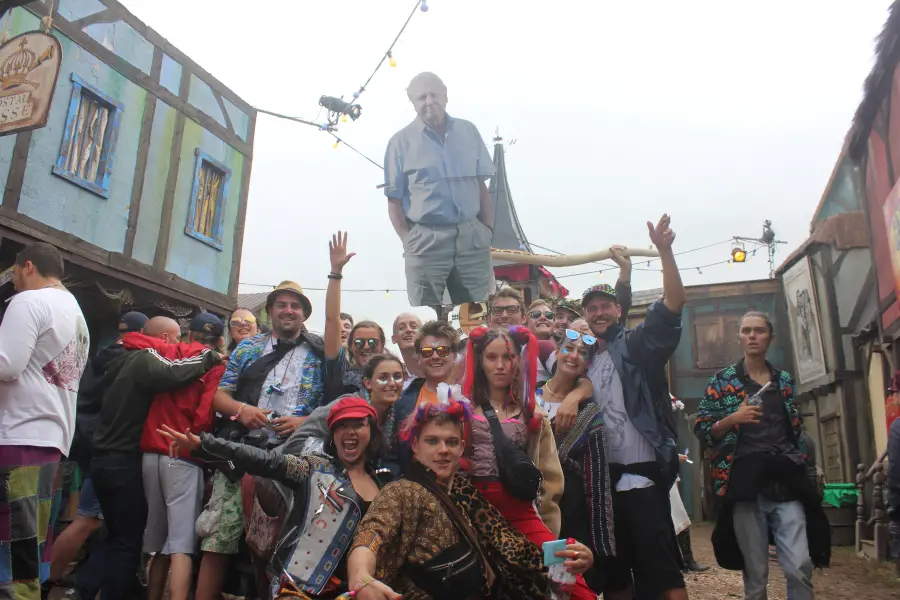 As soon as I asked the group carrying this David Attenborough placard to stop for a photo, people saw David and the group doubled in size. It was clearly a genius invention. I had to ask the sign creator, Gaz to elaborate.
Why David?
"We're all a big fan of David Attenborough…I don't actually know anyone who doesn't like him. He's a happy face, every time people walk past they're always smiling at him… and it's good… It also works to find each other in crowds"
THE THOMAS CROOK HOME FOR DESTITUTE PIRATES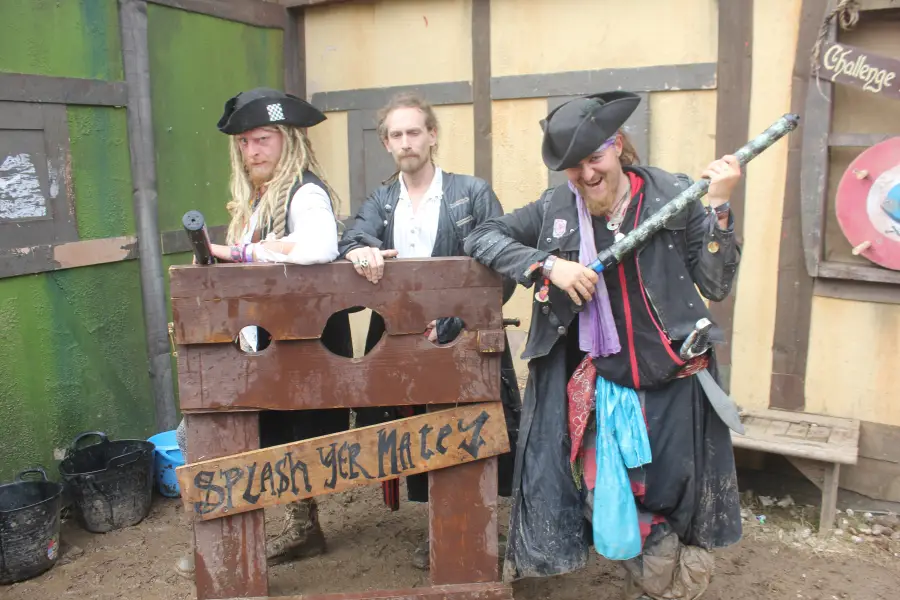 Best Moment?
"There's been quite a few. I have to say our ongoing war against Bang Hai. We've picked off a few of them about town. We're against Bang Hai, they tried to throw up out of our city."
Strangest Moment?
"The Fish People have been a bit odd. We've had smoke grenades coming through here a couple of times."
Why?
"Bang Hai caused a lot of pollution that's killed all the fish. That's all we know so far."
JULIA AND MO
I met these two in the rain walking through Whistlers Green. While I was wondering if the weather could get any worse whilst they were simply happy seeming to be having the greatest time on this tyre swing.
How are the feet?
"We bought matching wellies the day before, I'm so glad I did because in Lions Den it's a mud slide."
Whats been the craziest thing you've seen?
"Tribe of Frog is ridiculous. It's all psychedelic, there's lights everywhere, it's absolutely insane. Everything's crazy, when you walk through the town and all the people are in character, it's like a different world."
What's been the funniest moment?
"Our friend was high on acid, and there's this little living room with like sofas and lampshades with these little old women DJing and they were doing a raffle and he didn't know what's real and what wasn't, and he won the raffle and won a can of pilchards and they interviewed him and they asked him, "what's your name? and you could see it in his eyes, he was like, 'my name's (name omitted)' Where you from? 'I'm from Devon' and 'How do you feel?' and he replied 'I feel amaaazing', and we were laughing, saying "we gotta get out of here."
Most boring moment
"The first night I didn't have any socks or a blanket so I was like freezing, but like, you live and you learn."
THE 20 FOOT LIGHTBULB THING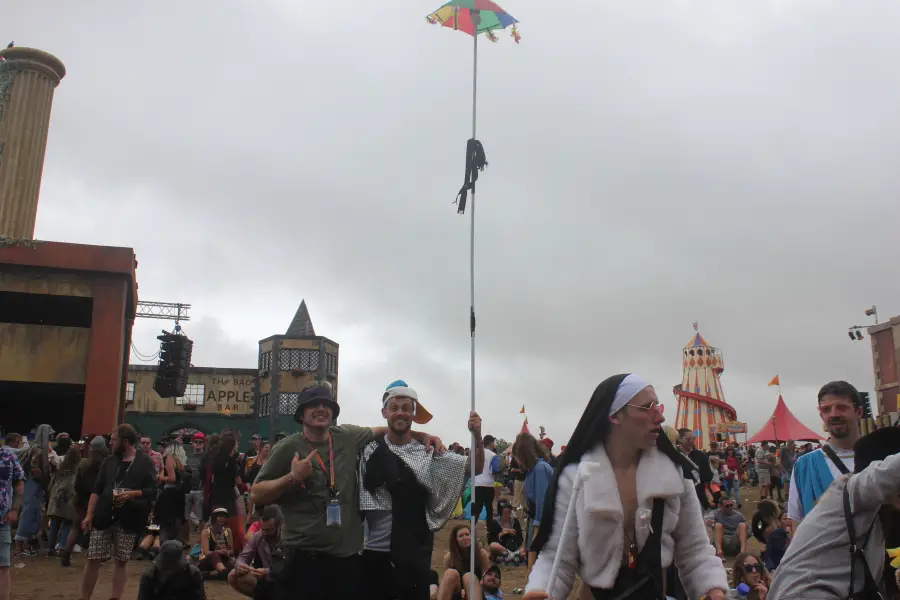 This is possibly the most ingenious invention I saw at Boomtown. Dan explains:
"There's so many of us, and keeping together is a right pain the arse, we can't find each other, so I built this f**king thing so we could find each other. It's made out of a gazebo (he points to a 3-metre high pole with a lightbulb and a mini umbrella on top) it comes on at night, and it shines bare bright mate."
THE BANGHAI REVOLUTIONARIES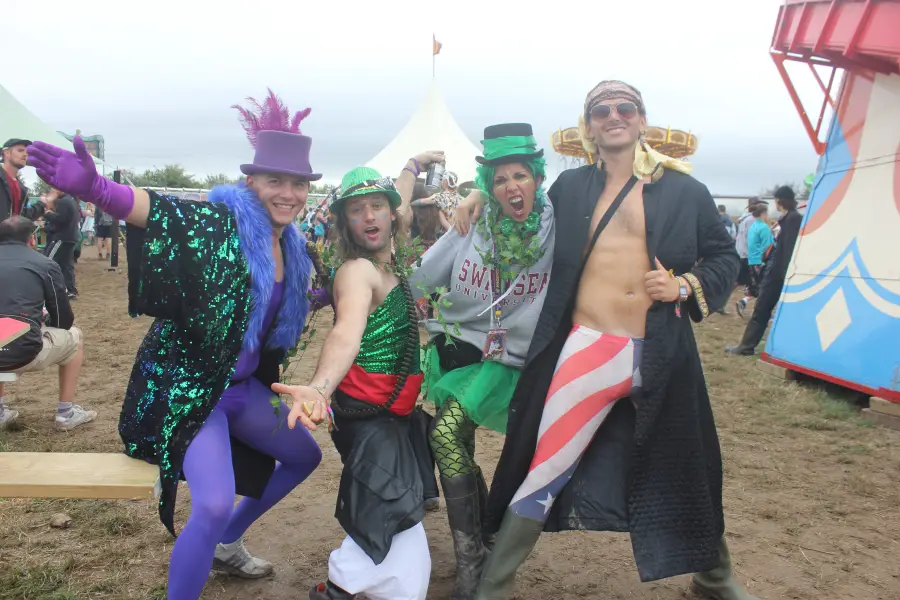 What has been the highlight of your Boomtown so far?
(Amy) "The Gorillas were amazing. The people have just been awesome…. the vibes, the fairground rides, the toilets have been smashing, and they fixed the mud issue. They prepared for the rain… they put rocks and stones everywhere, by Lion's Den, it's so good. Last year it was well slippery."
What's been the craziest thing you've seen?
"I've seen a few people pass out in the middle of a crowd which was horrible. We had a crazy toilet paper thing at The Skints… somebody had the longest roll of toilet paper ever."
(Her mate interjects) "…and the crowd thought it was much more interesting than the Skints, and the Skints weren't very happy about that, because the entire crowd thought the toilet paper was amazing, and the Skints were just as amazing, but not as great as the toilet paper."
Can you explain your costumes? Did you join a district?
"(Far left) From Bang Hai. This is supposed to be colourful revolutionaries. (2nd from left) Well I started as robot Alladin, and it's kind of evolved into a bit of a drag queen (3nd from left) Eco Warrior… and (4th from left) we have Gay Zorro! (reveals Captain America stockings)"
THE STEWARDS (AMANDA AND VICKY)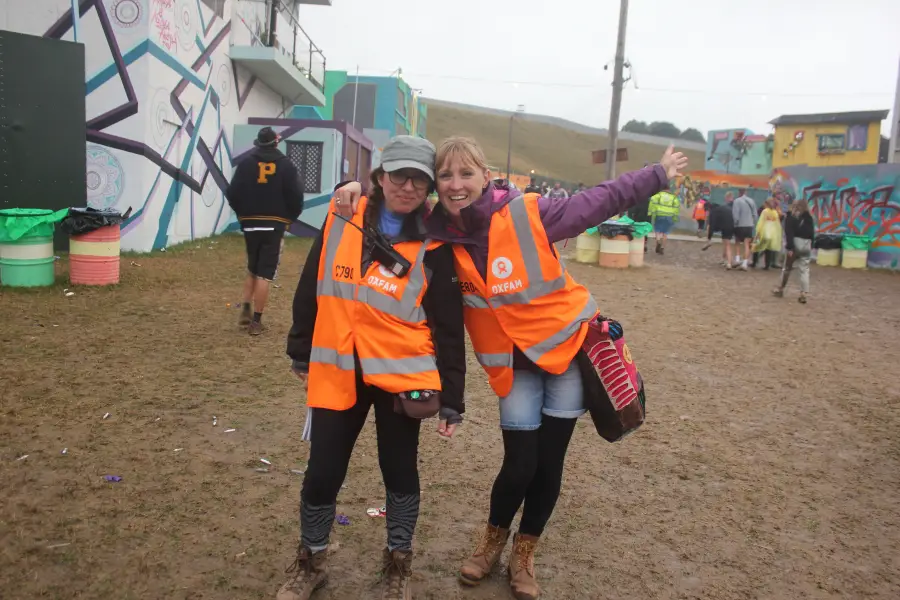 What's been the highlight?
"Coming somewhere new, because I've worked the same festivals for the last few years, and now this one."
How does it compare to other festivals?
"Its totally mad… this is off the scale bonkers. Most of the other ones I do are a bit more mainstream, so this one's mad."
"It's like working on a film set"
Most funny thing?
"Elvana made me laugh. It's an Elvis impersonator, singing Nirvana songs. You don't get any more Boomtown than that!"
Most crazy thing you've seen?
"Most crazy thing for me was when we were doing the midnight to 8 shift, on Friday night and at 4 o clock when all the music went off, all of a sudden everyone came out of metropolis, and they were just all over the place, and it was just hilarious people watching. I was getting people saying " I don't know what campsite I'm in" and I'd say " I can't really help you…. There's about 50 of them…. So yeh, just crazy questions from crazy people."
POCO LOCO BAR STAFF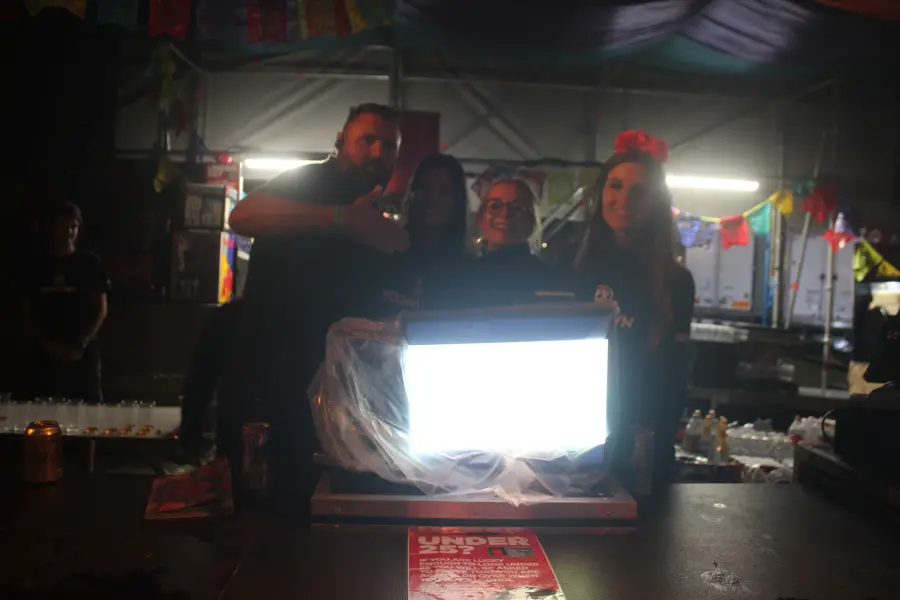 Have any characters left an imprint in your memory?
"There was this guy in full drag with a little soldier crop top and skirt. He was like some sort of princess and it was great and (he was) with some guy in a helmet."
"There was a couple of girls and they were all dressed completely insane. Basically, they had green hair, all completely insane, and they were just together dancing, clearly had been training for Boomtown for ages… they had a setup and everything. They had glitter bombs and things you know, just all around them."
We met many more wacky, wild and wonderful people on our travels but we weren't always equipped to pull out the notepad and camera. Do you have any of your own Boomtown stories? Send us a picture to yackmagazine@gmail.com and tell us about your best, worst, most crazy and just plain fun Boomtown adventures.
Words by Owen Price