We had the distinct pleasure of attending yet another premium poetry event organised by the irresistibly delicious Chocolate Poetry Club. They've found a new home since the last time we visited, and now there is yet another powerfully poetic evening calling The Roebuck its home. The Roebuck is a beautiful venue and we've been attending Bang Said The Gun there for many years. It was nice to see Martin, the Bang founder in attendance offering his familiarity to the CPC team helping them to settle into their new surroundings. The Chocolate Poetry Club showcase may be less riotously raucous than its counterpart but the juxtaposition is interesting when it comes to the different approach to wordplay. From the top floor of The Roebuck words well and truly took flight, exiting the windows and fluttering down the adjacent streets on the tongues and minds of the gathered crowd. Talent, skill and soul were definitely the focus of this wonderful evening.
As always the evening was a beautiful blend of rich, mouth watering chocolate and even richer mouth numbing wordplay. The kaleidoscopically colourful chocolate was provided by the delightful team at Seed and Bean and we have to say we more than nibbled a fair few chunks, the espresso flavour especially now being something of an addiction.The excitable crowd was reduced to a hush to hear the host and founder of The Chocolate Poetry Club Paul Point open with a recount of how it all began by winning an online competition, his dream of an all expenses paid trip to Peru.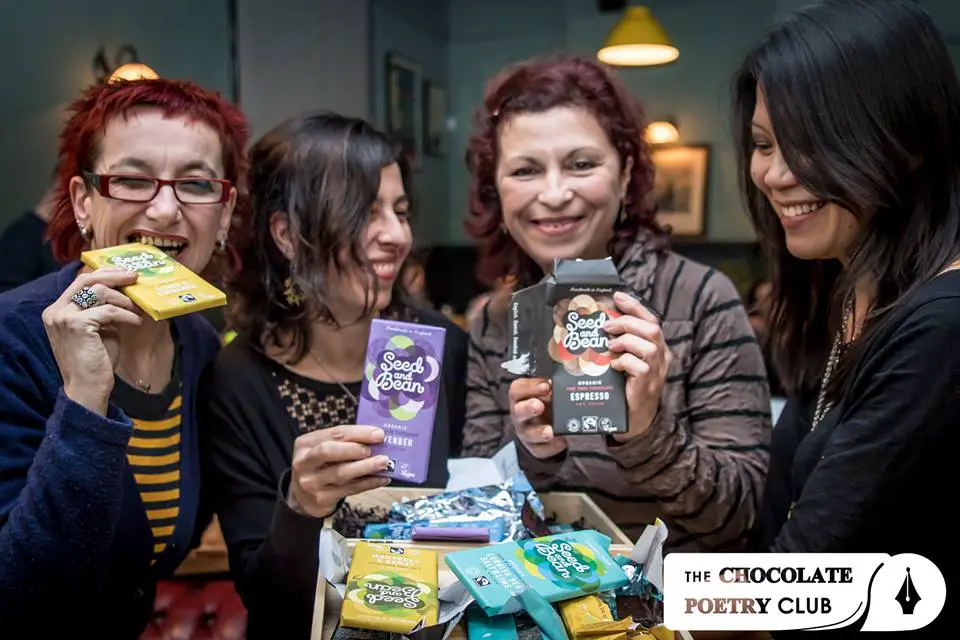 Back in Borough the busy venue was filling quickly. The monthly showcase had attracted audiences spanning Bournemouth to Peterborough and every seat had a bum firmly perched upon it throughout. The first act was a mystery guest in Charlie De Courcy of Word Up. He opened up the proceedings by letting the audience pick which of his poems he would perform, clearly not wanting to start on anything but positivity the choice of light, dark or love had Charlie performing his brightest piece and it truly shone. They say always leave them wanting more and he retired after performing his only one, which is a shame because I very much wanted to hear his dark counterpoint. An amazingly emotive performance that left the audience with no doubt of the calibre of the ensuing showcase. The other mystery guests brought just as much enigmatic effervescence to the evening with PoetCurious instigating a riot of the mind as he danced through intricate wordplay and rhyme. With just as much message as rhythm his set was one that tickled the mind and the eardrum in equal measure. He bounded through a set that was as inspiring as it was musical and we were again left begging for more. This brings us to the last mystery guest of the evening, Mr Abe Gibson. I will really struggle to find words that do justice to precisely how beautiful this man is. Starting off with a piece dedicated to those that take things slow, he then performed a short play/poem told through the eyes of Nancy and Reva, adopting the voices and accents of the two ladies and letting them come to life. The man is a bard and a poet and tells a story in a way I can honestly say I've never had the delight of seeing before. He humbly left the stage after these two pieces but compere Myriam 'Wordmaker' San Marco and the crowd were having none of it, having him come back to perform his piece 'Soft Brown Eyes' directly into Myriam's own beautiful browns on stage. A moving and powerful piece that may have left her regretting that choice as even the crowd were left weak kneed and flustered.
The featured artists themselves were of obvious quality and dazzled impressively as they each took their turn on the stage. Charley Genever was first up and proved precisely why she has been crowned the youngest poet laureate of Peterborough. Her words smacked against eachother, bloodied and raw in equal measure disgusting and beautiful. She has a turn of phrase that is wonderfully unique and she paints a picture that exists somewhere outside of reality, weaving poems that live on in the memory, yet her words grab you from the gut and jerk you around viciously in a very real way.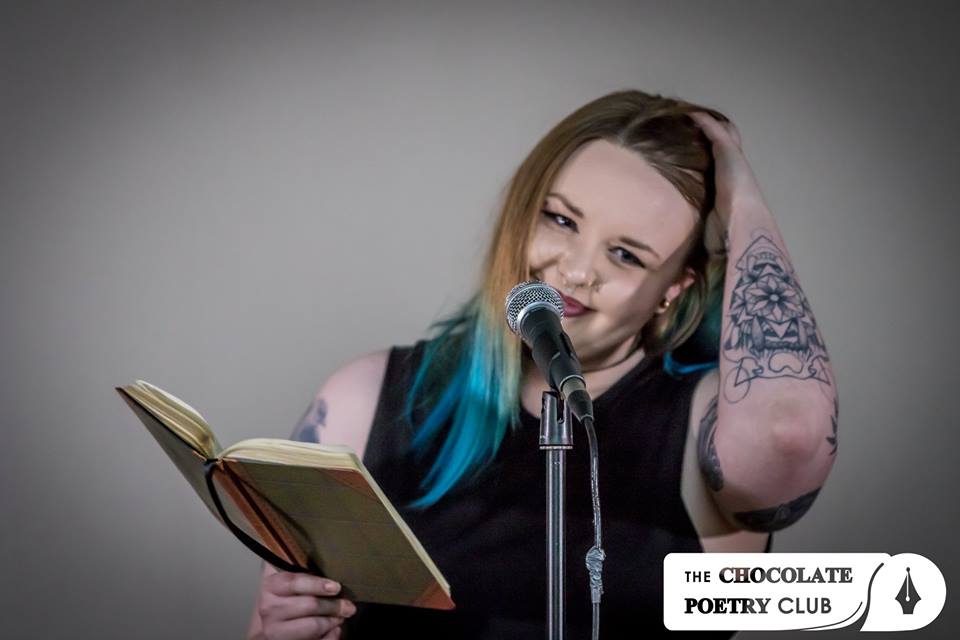 Laurie Bolger was on loan from Bang Said The Gun and you could tell that The Roebuck is a second home to her. She was effortlessly comfortable on stage and enjoyed a wickedly cheeky bit of banter with the crowd. Her cutting take on her visit to a Shoreditch pub was as funny as it was depressingly true, we'll definitely take her advice and stick to our local, thanks.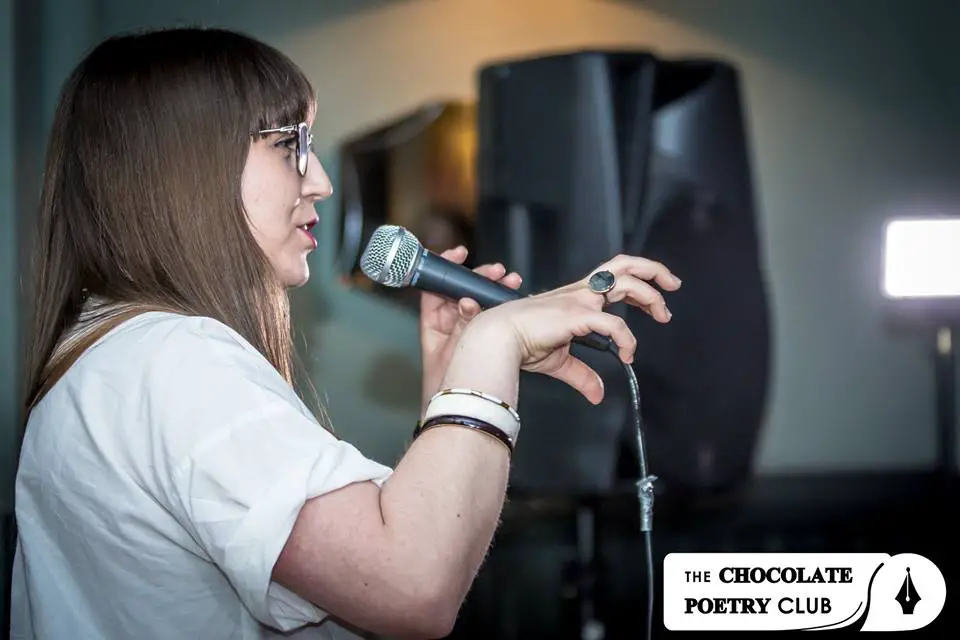 Chisara Agor was accompanied on stage by her ukele but her words shone as bright as any other performer, this was made most apparent when she put the instrument aside and played music with her voice alone. You could hear a pin drop throughout her all too short set and she was utterly captivating. We don't know whether to review her as a poet or a musician but we will let you try to find where one ends and the other begins.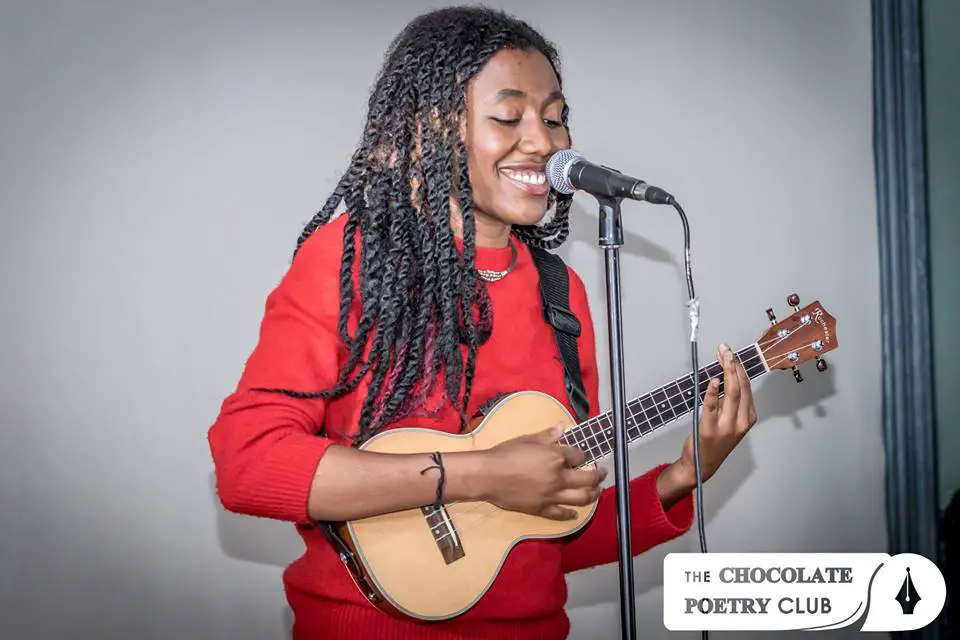 Which brings us on to Mr Adam Kammerling, what can we say about this scruffy little verb spewing vagrant? Adam has a resoundingly poetic soul performing a set of all new material that cemented the impression we've taken from every single time we've had the pleasure of seeing him, which is that this man has "it!". He took the audience on a strange trip through the workings of his psyche deploying poems written whilst punch drunk and giddy on meds from the dentist, a rant about the evil of the letting agent, a poetic plea on behalf of a revenue protecting "monster" and finally an ode to the phone box. It was a wonderful way to end the evening and was food for thought for any bellies that still had any room left after being plied with chocolate.
Over the course of the evening we were treated to various performers on the magic carpet's showcase and each and every one of them had something equally noteworthy to entertain. Cleo Sheajedeye Lewis delighted with what was a homecoming for her after a fews years absence from the scene, she showcased a talent and skill which we hope will have her coming back for more. The irrepressibly bouncy ride with the Black Cab Poet was a true pleasure as always, you also catch him careening around the curves at #CPCFIRE where he is somewhat of a welcome regular. Resident poet Rick Dove swooned the crowd with what was an incredibly softly spoken, but roaringly potent set and you should all be sure to check out his twitter stream for a taste of his magnificent micro poetry.
In amongst of all this however was a moment of profound silence as host and founder Paul Point took to the stage to perform his poem The Olive Harvest, shortlisted for Poetry Rivals 2015 national live final. It was one of those rare and moving moments when you felt reluctant to clap at the end of the performance and instead sat in quiet reflection, lip bit and mulling over the overflown cup of poetry offered to you.
Similarly stunning was fellow host and Poet in Residence Myriam 'Wordmaker' San Marco's set. Performing poetry on why she writes, what a muse means to her and how she has coped with it's seemingly violent removal and finally not to be outdone when it comes to poignant and dark reflection her piece on murder. No stranger to the CPC stage Myriam still manages to delight and amaze every time she performs with her words and energy, silently slipping a knife into the back of the audiences skulls, leaving spines tingling using nothing but a microphone.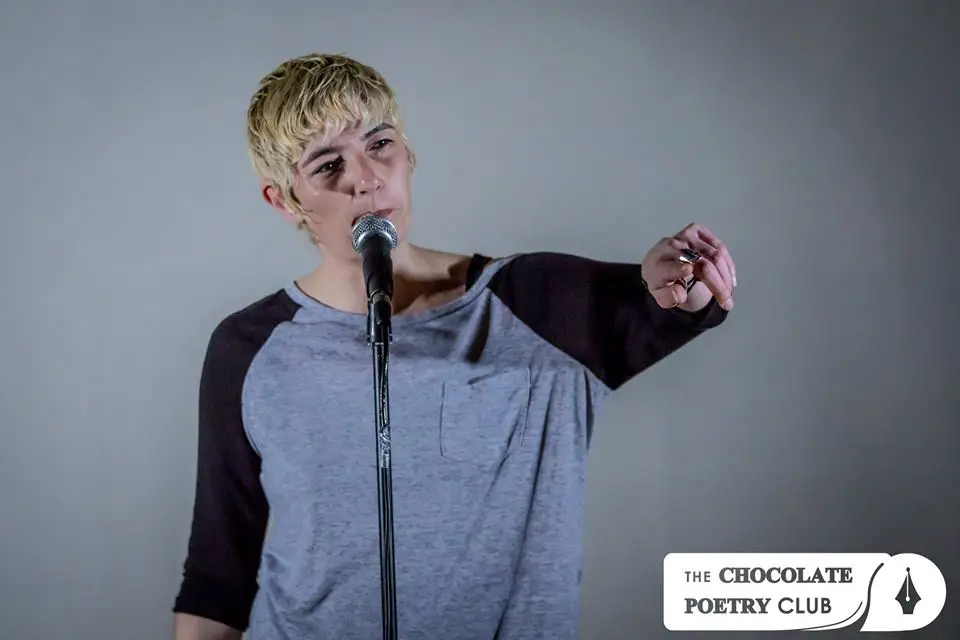 Chocolate Poetry Club can be found in its new home on the first Thursday of every month. We very much hope to see you there next month. The roster of talent is already extremely promising. If you can't possibly wait that long however you can tide yourself over with a lashing of bright sparks over at CPCFIRE, an open mic like no other held at Brixton Pound (B£) on the first Monday of every month (Except Bank Hols).
The Chocolate Poetry Club will return Thursday, May 5th – more info HERE
For the open mic show #CPCFIRE which will return info Monday, April 25th – more info HERE
Photography by Creative Planets.
Words by Yack Magazine and as always please know this is but one man's opinion. We'd love to hear what you all made of the evening yourselves so feel free to drop us a comment below.