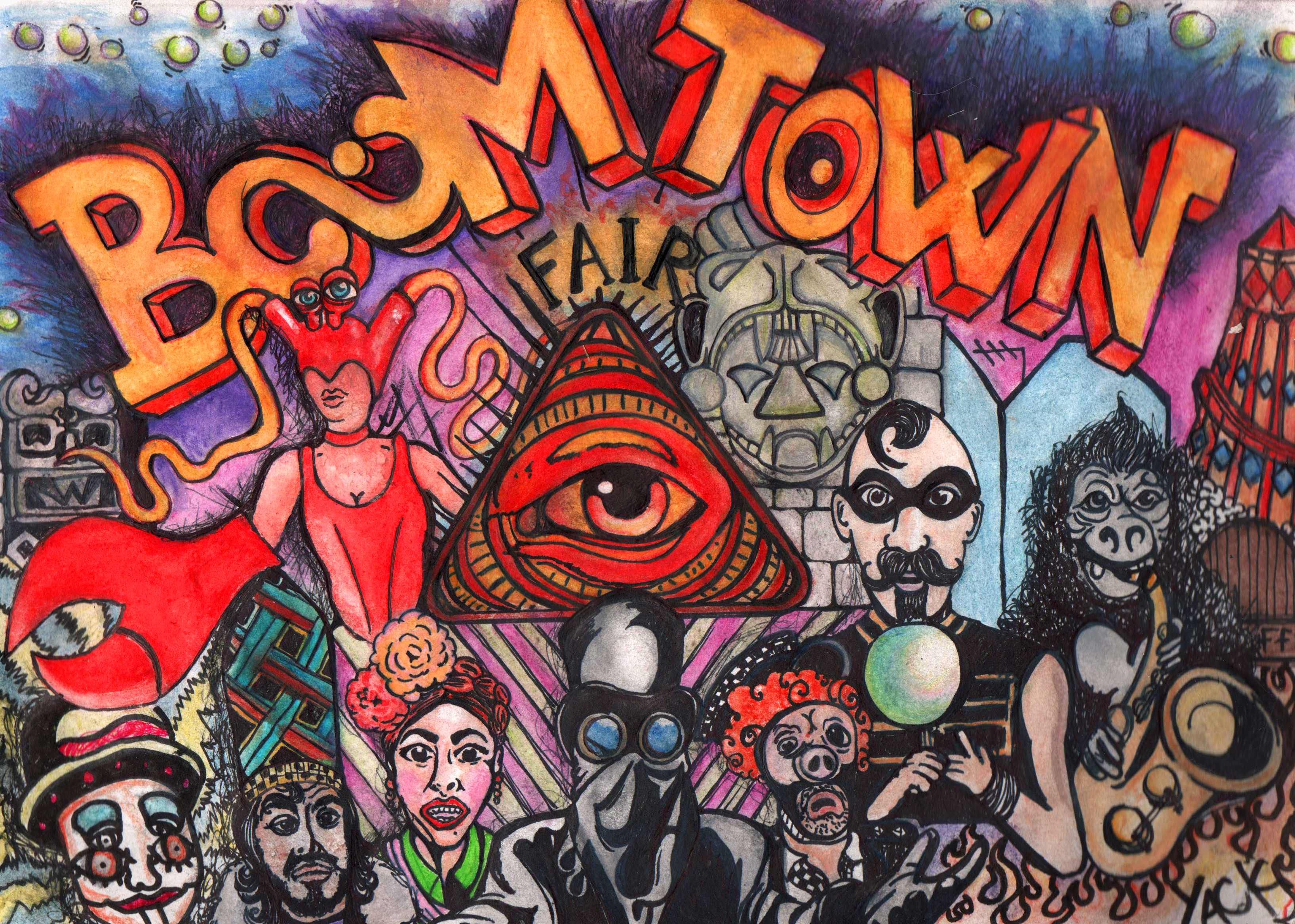 So you've booked your ticket and you're putting together an itinerary for a visit to the country's maddest party town. We've put together a little guide to help you squeeze out every drop of that sweet insanity from this particular cocktail of craziness. Our first piece of advice would be to take the to do list you have already and throw it in the bin. Whilst it's a good idea to have a look over things you'd like to see, you should never fix yourself to any sort of strict schedule at Boomtown, some of the best experiences will pop up and take you by surprise, never allow yourself to be distracted from distraction by having to leave to be somewhere. Immerse yourself in the sounds, sights and colourful characters inevitably vying for your attentions. It's important to stay fluid, be like water and go with the flow. You will always find your level in this manner.
Pack a costume. This is always fine advice before entering the front gates. This is a weekend of pure unadulterated escapism and if you have yourself an outfit that champions the path to playful abandon you will be as equipped as you can be. Some of the fondest memories we have were born of weird interactions with caped and costumed creatures and letting your mind slip into these landscapes will ensure you're ready to submerge yourself in the surreal atmosphere.
Find your home and basecamp. It's important to have some sort of foundation before striking out to explore the site. Boomtown is blessed with an incredible line up but each district favours a genre or particular sound. If you're into neon lights and dancing all night, head to District 9. If you prefer to get your skank out and headbang away to chugging guitars Chinatown is for you, those who prefer the finer things in life will want to head Uptown to the electro swing beats of the strip.
We won't insult your intelligence by recommending the obvious big hitters peppering the headline slots on the stages but we will suggest a few of our favourite party bands that will be sure to provide a sweaty soiree over the course of the weekend. Here's our pick of the not to miss.
Mr Tea & The Minions
We have only just recovered from Secret Garden Party where we closed the festival on the Sunday by dancing our sweet little butts off to the electric swagger of the Minion's song. This is a band that pour their very souls into the music and they're basically playing every festival in existence this year. This is a hard working band that have a sound and an energy that is uniquely theirs and it's always an enjoyable experience. It's impossible not to get consumed by a Cheshire grin as you kick your feet along to the juddering sounds evoked by these talented troubadours. It will be a contest between the band and the crowd as to who dances hardest and we will be there playing to win. Keep an ear out for "Mischief" and their ridiculously frantic and fun Inspector Gadget cover.
Route2Roots
MCs Resco, Idealest, Oski and Spitfire come together atop an incredibly talented full live band to craft golden pedigree hip hop. Each has their own unique flavour and flow but pass the mic seamlessly providing echo, callback and mantra. The songs and lyrics are well crafted with narrative and message. It's clear to see they've got "The Format" and if you want to know how they got it check out "Handle That" which is a kicking little tune charting the band's formation. The only thing more stimulating than the lyrics is the instrumentation, the band provide a full and juicy sound that will get any human grooving and moving.
Inner Terrestrials
If you ever need somewhere to just go and frantically shake out your demons you'll find no better home for the headbang than the Devil Kicks Dancehall. It's been our home from home at almost every year we've attended Boomtown, the line up is always fantastic and whenever you wander over you're sure to catch something wicked. The stand out year after year however are the Inner Terrestrials who deliver songs that pack a punch lyrically and a kick in the nuts musically. They're a band that we'll never get bored of seeing. They've chiselled stagecraft into a fine art and they have a message which is delivered with skill and serious passion. You'll get sweaty skanking along to the stuttering rhythms whilst your mind soars aloft with the positive energies. We don't normally list tracks but 'Boundaries', 'Law Dealers' and 'Heaven's Wrath' are genuinely three songs that soundtrack our Boomtown experience.
Sounds Of Harlowe
We caught Sounds Of Harlowe at Boomtown last year and we've been fanatic followers since. Lacing groovalicious beats with intense spitfire lyricism, the sound incites the crowd into near riotous head nodding. The interplay between the band is entertaining and it fosters an intimate feeling that brings the crowd into the performance even more. It was honestly one of the most memorable sets of last year for us and we can't wait to see them strut their stuff again. With the threat of new music looming on the horizon expect a frenzied set that we're sure is going to steal the show once again.
Selby & The Dharma Blitz
We almost feel like stalkers at this point, it's ridiculous the amount of times we've seen this band live, but the fact remains they impress each and every time. At Secret Garden Party we managed to dance in sun and rain during both of their sets, and we would have happily seen them again and again. They are one of those timeless and mesmerising bands that seem to feed on the colour in the room. You watch on in sepia tones, is this reality or a dream? It doesn't particularly matter and all focus is on them. Combining incredible lyricism, Laura's soaring vocals with the bands talented musicianship they meld it all into a hazy slice of soul and serenity. Whilst they'd be perfectly at home in a jazz bar plying their perfected fine tuned sounds they flourish on a stage, delivering high energy jams that are sure to get the crowd moving. Keep an ear peeled for the folkloric lyricism of "Sundance Kids" and the infectiously sensual sounds of '"Honey".
–
We'll see you in the city. Let us know any other bands we should keep an eye out for in the comments below. Think you've got something to add? Drop us an email at yackmagazine@gmail.com
Words by Matt Miles
Cover Image by Jasons Haggard Faces