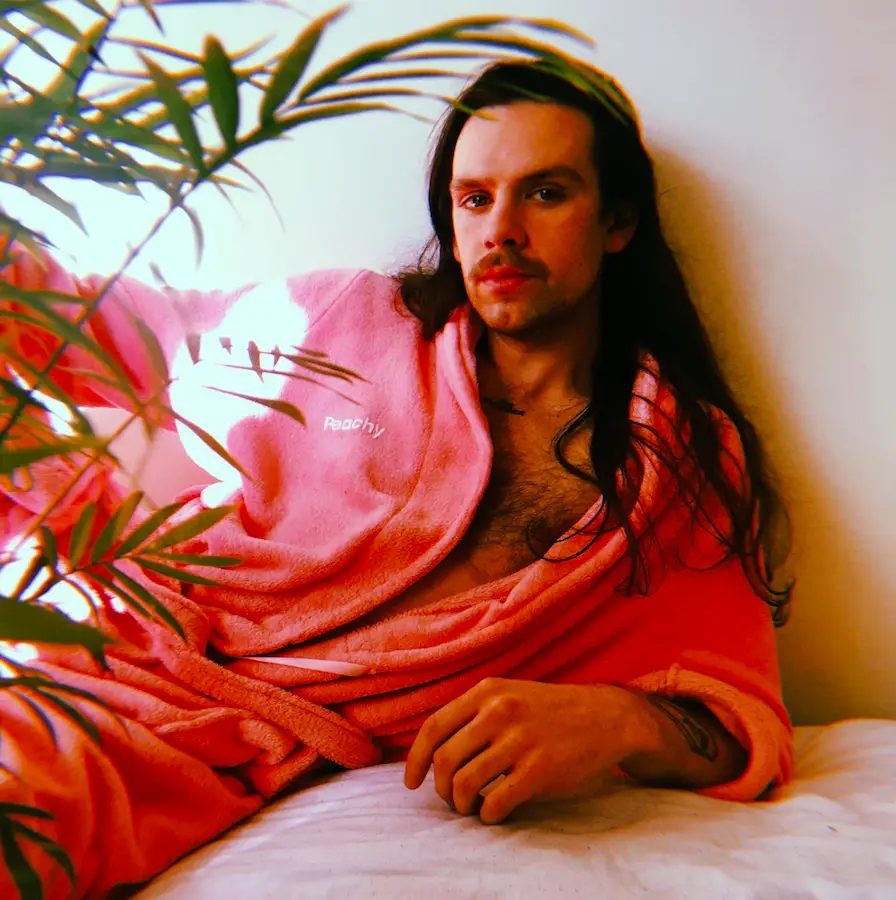 Been a while since we ran a tasty interview for you guys to get tucked into, but now we have, potentially one of the best interviews we've ever had… So well worth the wait. Following on from the success of his aptly titled 'EP 1' and 'EP 2', Welsh born, London based artist L.A. Peach came through with his overly-predictably titled 'Heart Strings' EP.
Making the kind of smooth love songs that should be on any love making playlist, whilst fusing these heartfelt numbers with his signature lo-fi vibe. Already championed by the likes of DIY Magazine for his latest single 'Sudden Love Affair', it seems that L.A. Peach may be ready to release another host of new material into the world.
We were lucky enough to catch up with this charming young prince to see what goes on in the world of L.A. Peach. Check it out below.
It's been a little while since we've had new music from L.A. Peach, how has your sound developed since 'EP 1'?
It has been a little while hasn't it?! I have spent my time very wisely I can assure you of that. The sound has developed a lot since EP 1, I think mainly the production has improved so it no longer sounds like it was recorded on a toaster. Everything is a little brighter and cleaner for now. And even more romantic.
The 'Heart Strings' EP really defined your style of music, what artists that maybe aren't as well known have had an impact on your music?
It would be rude to say that Jonathan Richman isn't well known, but he's certainly not as well known as he should be. Huuuuuuuge influence on me, I'm A Little Airplane is all I sing around the house and my fiancé hates me now. But wha cha gonna do? It's a classic.
Equally, are there any non-musical people that have influenced your music?
Maybe not so much influenced the music, but my mum and I have always helped encourage one another in our own respective fields. She's a potter – a really bloody good one at that – vickywareceramics.co.uk – She makes sure I'm not faffing around too much, and I try to make sure she believes in what she's doing because it's top of the range shit!
What motivates L.A. Peach – What gets you up in the morning?
Muesli. I live for it. Breakfast is the greatest and only true meal of the day. Get up. Cuppa tea (rooibos). And a large bowl of muesli, with banana and a sprinkle of cinnamon. And also, the crippling fear that I'll look back and say I wasted the genius that I've been so clearly blessed with.
Do you think anyone actually likes The Beatles?
Yeah, I mean, I've seen people with Beatles tattoos. So I reckon they do. But I also think that Simon & Garfunkel are better and I am willing to fight to the death anyone who disagrees. Plus, and yes, everyone thinks it, but George Harrison was wasted in The Beatles. Imagine the hits he could have made if he wasn't spending his time ironing Ringo's slacks.
What does the rest of 2019 have in store for L.A. Peach?
Obviously, I'm here promoting my sweet hit single Sudden Love Affair, but I've written some very sexy numbers that I'm going to record soon with my glorious band. Hot damn, it's going to be good. For a taster of what's to come, and there is a real load ready to come, make your way to The Waiting Room on March 21st, and you'll see me half naked, maybe no shoes, covered in vaseline singing to a half empty room of old men.
If you could change one thing in this world what would it be? World peace and an end to hunger are not options here.
Can I go back in time? If I could I'd go back to the beginning of the season and open the new White Hart Lane stadium so we could watch Moussa Sissoko murder Jorginho with his bare hands in the real home of London football.
Picture the scene, you're walking home one night after a few too many drinks at your favourite bar. A stranger approaches you in the dark and asks for all of your possessions. Its Hulk Hogan, what do you do?
What am I wearing in this scenario? For the sake of the question we'll say I'm wearing what I usually wear to my local boozer – knee high socks, a jockstrap and my kimono – in this outfit I am invincible and I could take anyone. I would happily punch the racism right out of his saggy face. Toe to toe. Cage match. Steel chairs. 619. It's all happening. Shit moustache anyway.
Same scenario only this time its Carol Vorderman who is trying to mug you?
Fun fact for you. Carol, a good friend of mine actually, was born in Bedford. And the last time I drank alcohol, I was at The Alibi in Dalston (RIP in pieces you greasy freak), a friend past me a beer, I took a sip, and then 4 hours later I woke up in Bedford on the train. No memory. No wallet. And that's exactly what I would tell Big C if I stumbled upon her in an alleyway, no matter how threatening she came across.
Lastly, and most importantly, who will the most and least sexy celebrity of 2019?
Most sexy – L.A. PEACH.
Least sexy – The beef between Idles and Fat White Family personified.