Along with being human beings, sometimes rapping on albums and at live shows, In Sanity have yet another string on their bow, kicking off dope ass cyphers.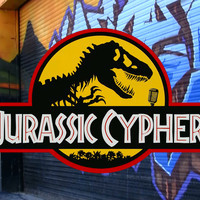 We should start off by explaining precisely what a cypher is, for the uninitiated. A cypher starts off as a beat, then it's passed to someone to write and deliver the tightest bars they can. After that it's passed on to someone else, sort of like a game of tag, to see who can spit the sickest. It's passed on and on hopefully getting sicker and sicker as it goes, not unlike an STD in many respects. But only the good kind? Yeah the good kind.
In Sanity are lucky enough to have both a beatmaker and talented spitters in their outfit so are perfectly capable of starting off cyphers entirely off their own back. Today we're focused on the Jurassic Cypher but you should also check out their Sun Moon Cypher.
The beat does exactly what it says on the tin, it's prehistoric, gargantuan and just a little scary. It's not a wonder this cypher is getting the attention it is with a beat so primal, it's just too tempting to ignore. Eiren and Catharsis start the cypher off correctly, bringing rhyme schemes that are insanely intrinsic and flow fresher than a mint infused cockscrub. It would be fair to say that if Cyphers were in any way competitive, In Sanity had this "won" from the start. "Got it covered like bukkake movies".
Yet even in the immediate responses there was some serious heat, they passed it off to Chance and Josh. Who responded like this.
This was Josh Shlick Smit's response with the homie Benny Els. Fueled by a laid back and effortless swagger, Shlick Smit cruises over this beat with ease, delivering karate chop smacks of vocabulary. "Ask if I give a crap what your map says, fuck being on it, I'm here to re-draft it". Benny finishes off with frantic flourishes of multi-syllabic deviancy.
We cannot seem to find Chancellor's entry but I can assure you he swooped in with a furious message and wordplay. Check out his channel here: https://www.youtube.com/user/EducatedChancellor/videos
Then Term K (Of The Palmer Squares) joined in, and the heat turned up. TPS made their name doing youtube cyphers, but it's been a while since Acumental or Term K have reared their monstrous maws to spit sick on top of a cypher beat, they have understandably been busy with other projects. Bringing Term K out of retirement is proof of the calibre of this cypher, so thanks go to In Sanity for kicking it off, it's due to them that we all got treated to this nugget of ridiculousness.
Even one of Yack's own had a go at this cypher. Represent represent.
The cypher is ongoing, you don't have to be called out to take part so if you like the sound of the beat and think you can spit. Have a go, upload it and link back to the original. If your interest has been peaked feel free to go and check out the Youtube Cypherlife Facebook Group as well, it's a tight little community filled with a lot of talented MC's.
Words by Matt Miles