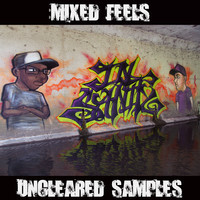 The album starts off fiercely, with a statement of intent and a middle finger to the established norm. A sample mocking the hypocritical fascination with independence in the mainstream, before leading into "Awkward Flow", a track that exhibits precisely the level of intensity Eiren and Catharsis plan to come at you with on this. In the break, the group cheekily hail bars over mainstream appeal, condemning the attempt to jackhammer in an auto-tuned chorus, both in content, and in structure the track itself mirrors this message. Eiren and Catharsis spitting slickly with laser precision over a Gonzo beat as dark as it is infectious, it's abundantly clear from the outset that this album will be serving you up something to think about.
The album is a solid 16 tracks long if you discount the intro, but not one of these is a filler. From top to bottom this is an album of songs you know In Sanity are just as hyped for you to hear as you are to listen. The honesty and passion that created this album is tangible throughout. It reeks of "made for the love of it" which is an aroma that can sometimes smell sort of similar to "amateur", nothing could be further from the truth in this case. Catharsis and Eiren deliver vocabulary, wordplay and flow at a level far beyond their relative infancy, and on the technical side Gonzo and Jody Tompkins have insured that this album stands up to any test of production skills available.
Speaking of Gonzo the beats on this album deserve a special mention. From the second "Awkward Flow" hits it was apparent that this was going to be a creepy mix of flourish, ethereality and pounding machine gun percussion. The tracks have both an established regality to them, coupled with a raw hunger. At certain points Catharsis and Eiren step back and let the beat spin for a bit, allowing the listener to pause and appreciate the work that has gone into it, it is far from something just to spit over. Another musical collaborator is Ollie White who appears on a couple tracks throughout the album, delicately sprinkling them with sweet guitar licks, special mention to "Water Pipe Dreams" which features an especially funky little riff.
The album features several co-conspirators, generally helping it to feel more like a bunch of friends putting together something that they genuinely enjoyed working on. Dalton O'Brien, The Goat, Yung Fappa and Qualen Mathlay all deserve a mention for their guest verses, but a massive shout out goes to Shlick Smit who serves up verses absurdly filled with style and substance on around a quarter of the album.
I could easily fill an entire article with choice lyrics plucked from this treasure chest of material. Catharsis and Eiren can pat themselves on the back if their mission was to infect people with unforgettable bars, mission accomplished. The rhyme schemes, silly syllabics and poetic passages on this album are at a spiritual level, it's as if they've meditated everyday, sat on top of a dictionary, in order to spit the miraculous vernacular that dominates this album. This is real hip hop, done for the love it, getting stupid with wordplay and filling it in with a conscious message. If you have a friend that writes off hip hop as "booze, bitches and bling", get them to give this a spin to give them a taste of just how rewarding it can be.
I wish I could better verbalize just how enamored I am over this honest and brilliant piece of music. It's so raw, so passionate, it is everything that music should be, made for all the right reasons, by the right kind of people. On top of all that it has been released for free, meaning you can listen to and download it at your pleasure. If you don't bump this album after reading this… I can't even come up with a threat that is good enough, just do it okay? Thanks.
Yack Track Picks: Awkward Flow, Funky Daze and Wrap Your Mind
Words by Matt Miles