We arrived early and settled into the comfy laid back atmosphere of the beautiful Canvas bar. We await with baited breath the imminent opening of the dancefloor and stage, we might have been a little embarrassingly keen. Our eyes flicker nervously to the stagedoor barely able to contain our visible glee, because hip hop greatness is here, metres away maybe, Chali mother-funking 2NA is on British soil and by some miracle he is right here in Bournemouth town. We trade conversation with a few of the other earlybirds and the friendly bar staff as we sink a couple deliciously cold pints in anticipation. Minute by minute the venue gets busier and soon the atmosphere is electric. The doors open and we all spill into the suave and sophisticated inner sanctum ready to party.
It kicks off with a bang and it's not long before a raucous ruckus of bobbing heads fill the venue skanking along to a solid set from DJ's Dafu and Cursa. As the evening and the turntables warm up, the liquor flows and it almost gets claustrophobic as Canvas merges into one large undulating mass of dancing bodies. Dafu and DJ Cursa plate up a very tasty selection of tracks mixing the old and new school, it's an appetiser that has the crowd ravenous by the time Chali 2NA takes to the stage to serve up his own fresh fish platter.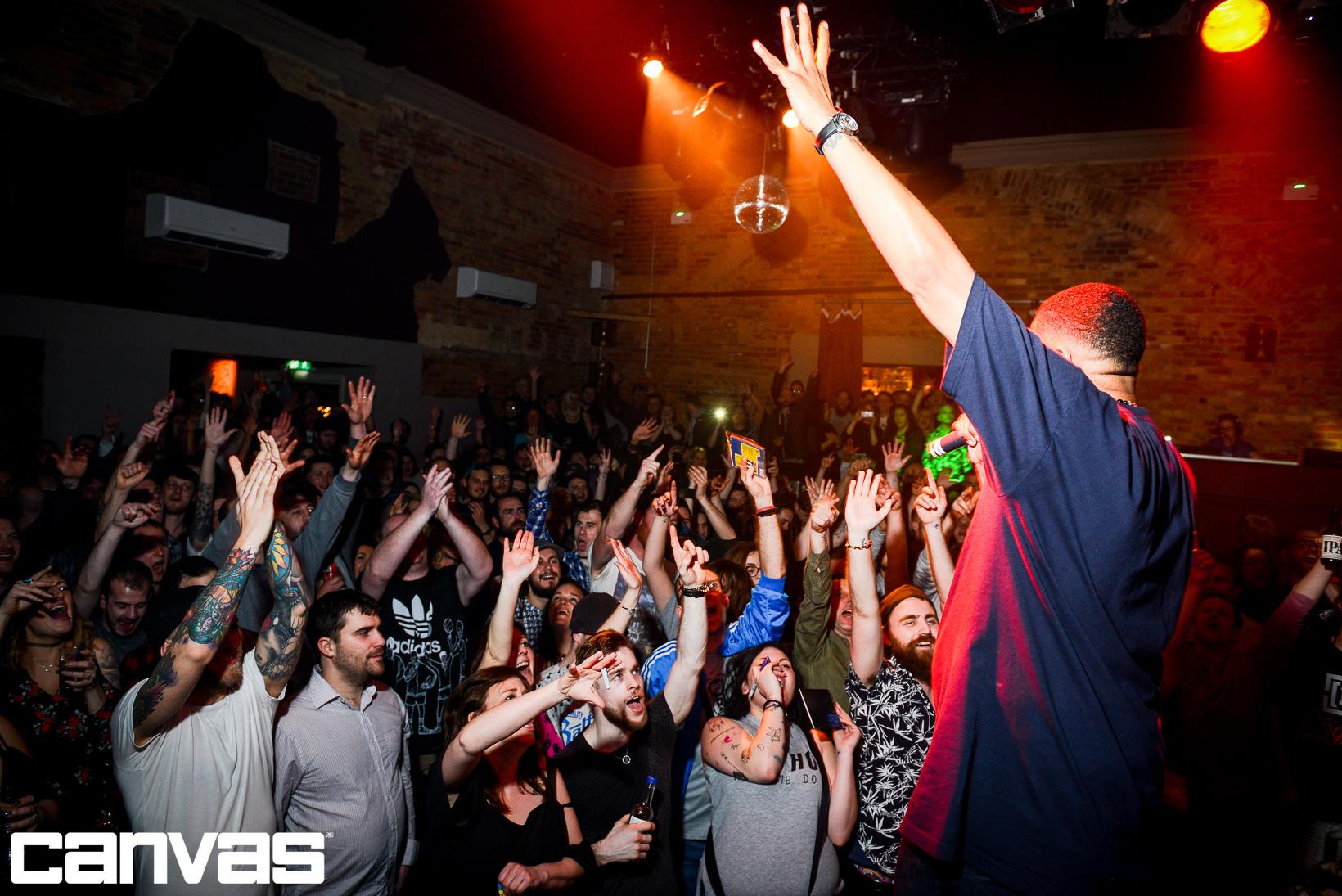 Chali 2NA is a name that is synonymous with rap pedigree, a founding member of Jurassic 5 his career and collaborations span genre and generation. His smooth, baritone, crisp delivery is unmistakable and from the second he takes the mic the crowd erupts. The set touches on every jewel in Chali's impressive crown of a discography. He begins with introductions and is constantly offering love and energy back to the crowd and to the extremely talented man on the turntable Mr Krafty Kuts. This is how hip hop should be done, it's raw, it's passionate and it's heartfelt, Chali 2NA's golden flow and vocal chords perfectly syncopated with the swift and tricksy beats laced by Krafty Kuts. They take the crowd on a journey letting us tune into their very own hip hop radio where the old school still reigns supreme, but they're not trapped there; new song 'It Aint My Fault' from the upcoming Krafty Kuts album, featuring equally legendary UK rapper Dynamite MC is an instant hit. It's hard to believe Chali has had a career spanning as long as he has as the man still flexes linguistic gymnastics that would leave even the youngest MC tongue tied. It's his attention to syntax, internal rhyme and delivery that have him head and shoulders above the rest of the competition… well that and the fact that the man is genuinely incredibly tall. Rap's Herman Munster dazzles as he takes the crowd through his solo material with tracks like "Comin' Thru" and "Outspoken", he treats with latin beats as he struts with Ozomatli style taking to the "Cut Chemist Suite" with ease. The Jurassic 5 fans aren't left feeling let down however as even without his three fellow MC's Chali deftly delivers solo stripped back versions of tracks with juggernaut status such as "What's Golden" and "Jurass Finish First".
We do not mince words when we say that this was an MC masterclass, Chali works the crowd like a punching bag, each verse and word slugs with as much passion as it has power. The love and respect he has for the amassed crowd interacting and taking the time to stick around signing CD's and dishing out hugs is what separate the man from lesser MC's. The set is peppered with freestyles over the incredible beats served up by Krafty Kuts and elongated tracks from the Jurassic 5 era which Chali 2NA has obviously revisited to beef up for solo outings. If this gig is anything to go by it's a strong case to back up the claim that the old school do it better, because as far as live music goes, this was carefully crafted and practically perfect.
Words by Matt Miles.
Photography by James Bridle.