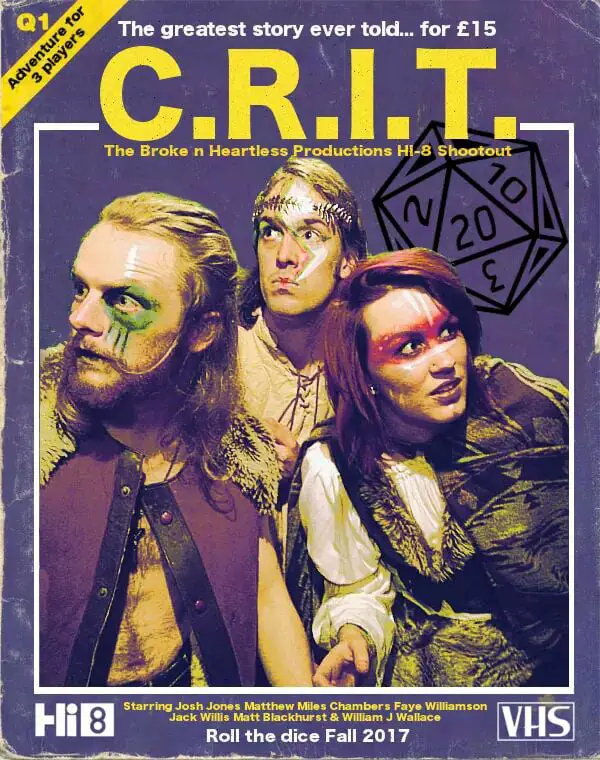 C.R.I.T is an exciting project from local film making funsters Broke 'N' Heartless. Taking inspiration from cheesey, sleazy horror films and a significant sprinkling of nerd it's a short that certainly grabs your attention. Stylistically it is stunning and it's got a nice retro feeling soundtrack laced underneath, the grainy effect on the film comes from the fact it was actually shot on Hi-8, not just some after effect wizardry. Coming about after a few friends got together it was all shot in just one day, so imagine what these talented bastards could do with a proper shooting schedule? You can watch the short below and please if you like what you see visit the Kickstarter for this wicked project. In order to tickle and tease a little further we managed to peg William J Wallace the brains behind the beast down for a few minutes to fire of some questions.
You can view the CRIT project teaser here.
—
1. Who are you and what do you do?
I'm William Wallace, repping the team at CRIT and Broke N Heartless Productions. I'm a filmmaker from Bournemouth, I make my money as a focus puller and other more mundane activities. 
2. What or who is Broke'n'Heartless?
Broke n Heartless Productions is the label I've used for my short films over the years. It's meant to reflect the fact that we shoot cheap and dirty, valuing creativity over a refined cinematic style. As for who, really it just refers to whichever talented bastards I'm working with at the time. 
3. What is C.R.I.T.? How did it come about?
 C.R.I.T. is the name of the short film we made earlier this year and shorthand for its full length follow up CRIT! Cyber Party Massacre, which will begin shooting next year. This all started when I had booked a day off my day job to try and get some shots to finish another stressful TBnH project called Sweet Revenge. This fell through and so I organised what I thought would be the best day off of my then 60hr working week job – running around having fun with the VHS camera I had recently snagged at a charity shop. I always wanted one as a kid. At the time I was so tired of projects I had been involved in getting stuck in post or never making it off the drawing board in the first place and so I really wanted to do something immediate. We didn't really mind what we got, we just threw in our ideas and used it as a chance to experiment and it wound up really reminding me why we do this in the first place. Our small crew brought so much creativity just for the love of it. I was really proud of the team we assembled of a few Facebook messages. I could be the best paid focus puller in the industry but having an idea and getting a little crew together to put it on camera, no matter how crude, is the real joy of it all. We called this day the Hi8 Shootout – one day, one tape, everyone shoots, everyone stars. We hope to make this an annual thing and there'll be another shortly. Anyway, the shoot was so much fun, and the little film really found its voice in the chaos, so we developed the concept into a full-length story. As for what CRIT stands for, you'll have to watch the film. 
4. C.R.I.T. looks to be the celebration of a lot of different influences and styles. Could you list some of it's major inspirations?
CRIT was really about tapping into a style or mood, just a lot if things I loved as a kid and do now. Although it's nostalgia and pastichey it all came from a genuine place. The napkin-like idea came from two separate ideas I'd been thinking about and wanted to run with. One was a fake trailer I wanted to make about hackers who get hunted by a cyborg and the other was a D&d inspired green screen film based on my love of Jason and the Argonauts. The conscious influences were things like Manborg, GWAR music videos and a show called Dungeon Majesty. Some of the other things we drew on took such a life of their own by virtue of the shoot that they barley seem worth mentioning. Everyone seems to see other comparisons in it. We get Garth Marenghi a lot and of course Stranger Things. 
5. In general what are the films that really froth your loins?
I watch all sorts but old B-movies and recent low-budget indie films like Bellflower, The Battery, The Taint are massive inspirations and some of my favourites to watch. I love a unique idea brought to life against the odds on a tiny budget by someone who really cares about it. Crappy DIY stuff, like the films of Tom Graeffe and Donald G Jackson, really motivates me. Films such as Teenagers from Outer Space and Rollerblade might not be everyone's cup of tea but they definitely get me going. I don't only watch cult stuff but that's what excites me, plus all the stuff people are working on around me. Anyone who does this is my hero really. 
6. You seem to be a big fan of collaboration working with some big names and lesser known ones too. What do you get from working with others?
Film is the most collaborative art form there is at the end of the day. The meeting of minds, skillsets or imaginations and different perspectives is what makes it so mad an wonderful. You learn stuff from everyone too, no matter your respective roles. I learnt a lot working with people like Drew Bolduc (The Taint, Science Team) but also from people working "for" me on my work or in my department on other shoots. I also think working as crew, as opposed to deciding to be a director off the bat, keeps you humble and allows you to learn a lot about filmmaking by osmosis. We really wanted to make the Hi8 Shootout as democratic as possible. I considered my role more like a D&D dungeon master – keeping the story going as the players tell it with you. I got the chance to work with a really talented group and we've recruited many more for the full-length. It's very exciting to me. 
7. How much harder or easier is it to self fund and motivate new projects now with the introduction of all the different tools available on the internet?
Certainly these are mad times for film financing. It's really not my field of expertise but it's crazy to see some things explode out of crowdfunding. This said there's so much of it going on and it's not without its issues and controversies. In any case your project can become white noise so easily. Personally, I think if you can you should put your money where your mouth is and I will be largely funding CRIT personally but the Kickstarter is a great way to find our audience and with the short film shot hopefully we can find the niche audience who might well want a preorder or some merchandise and give us a better budget to work with. I hope with CRIT because we are asking for so little – you just don't ask for two grand to make a freakin feature film – that people will get that we are doing something different. Just being able to share things so readily by social media is a huge asset, not to mention the social reach benefit of our Thunderclap campaign – for which I'd like to think everyone who helped us reach our goal – but I've seen with this project that physical screenings and face to face conversations still make much more impact. 
8. If C.R.I.T. had a soundtrack what would likely be on it? What are you listening to?
The short was fun because we could get away with whatever. I'd definitely go for some Manowar and Giorgio Moroder if we had the budget! The new CRIT soundtrack needs to be bitching. Fortunately we've already had an artist I admire offer to do our soundtrack and I'm really excited to see what they could do with it with their sound. I made a couple tracks myself for the short but someone who knows what they're doing could add a heck of a lot to the project. I think there will be synths.
9. Hard one. You're walking down an alleyway, it's late at night. Suddenly out of nowhere Hulk Hogan appears and demands you give him all your money. What do you do?
Damn… Hell I'd give him the lions share of the budget if he'd guest star in the film! We've got some good roles going after all. 
10. Anything else you want to say or plug? How can the reader help with C.R.I.T. a reality?
I just wanna say how stoked I am to be working with such a talented bunch, we've got the filmmakers and artists of the future on this one and they really inspire me. So a massive shout out to the CRIT Gang. Our Kickstarter launches with the official online debut of the short on the 15th, check it out and get involved! Thanks for having us Yack!
—
If you're not already reaching into your pockets to pull out your wallet to support this then it's possible you've had your heart ripped out by a computer seance summoned cyborg. Check out the CRIT Kickstarter campaign here.
Remember if this gets funded you could have a full length version! We at Yack have had a sneak peak at the script and can tell you it's worth every goddamn penny. Get giving folks, make a dream come true for Christmas.