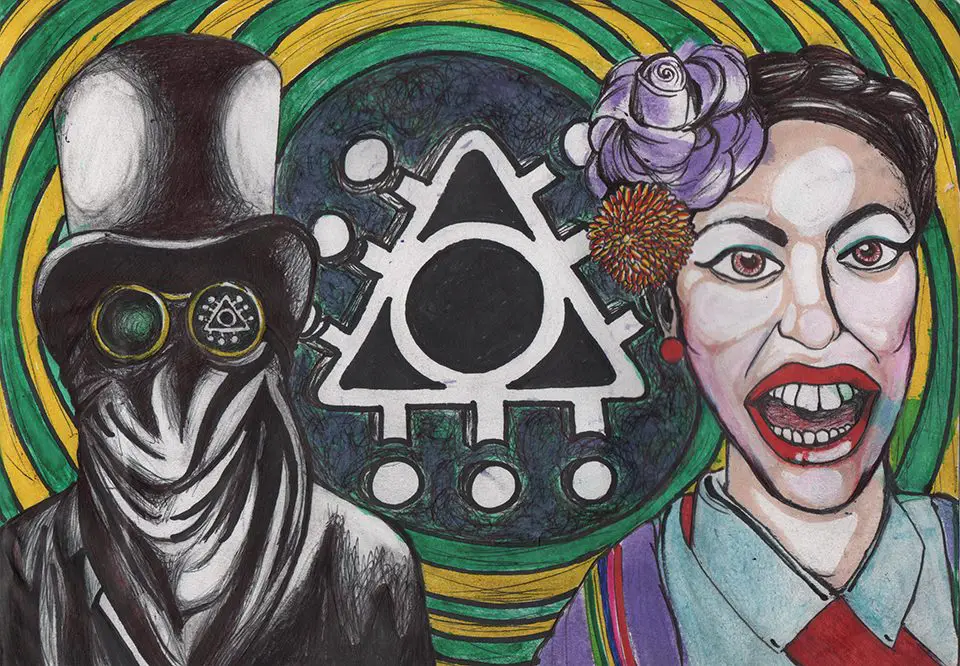 Boomtown well and truly blew our minds and then sent the pieces spinning off into space. We've had the time necessary to collect them all and now we're busy gluing back together those shattered shards into something that vaguely resembles a functioning human. The real world is a sharp shock after you've been immersed so heavily in the wonderful abandon and revelry of the Boomtown Fair and Chapter 8 was no different.
We arrived on the Wednesday with plenty of time to settle in and acclimatise but we still spent most of Thursday finding friends and drinking copious amounts of alcohol. We did manage to sneak off and catch Pete Cannon & Dr Syntax as they delighted a ripe crowd on the Poco Loco stage. They put on a set that would make even virgin ears prick up and listen, stunning levels of lyricism atop a firm friendship and synchronicity. Even without Del The Funky Homosapien's and Jehst's verses the stand out would be 'Do What I wanna Do' which became an unofficial mantra for the weekend.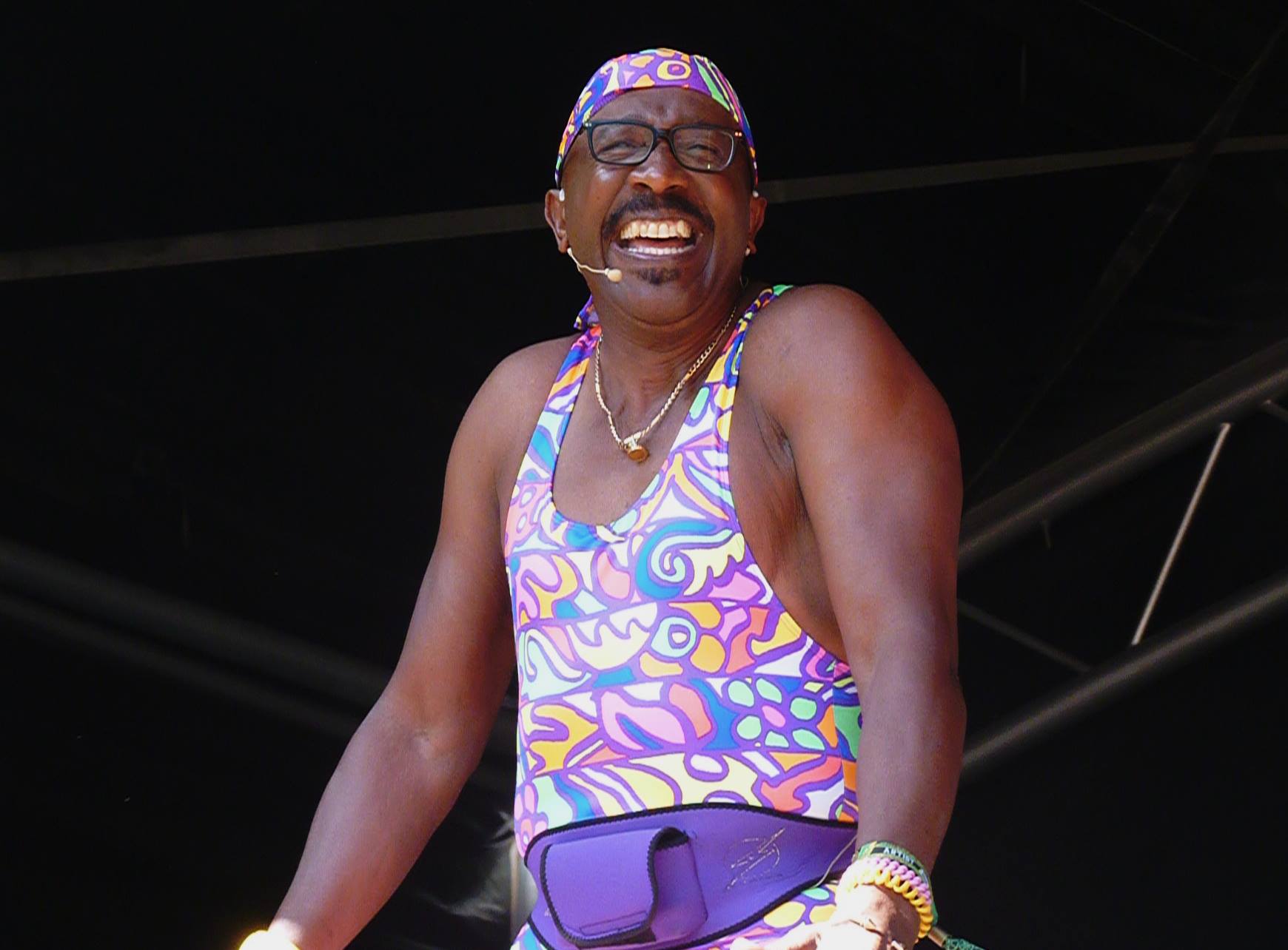 Starting Friday as we meant to go on, we shook off our hangovers bright and early with more than a little help from Mr Motivator. If I said this was a highlight of the weekend I would be massively underselling it. A true force of nature Mr Motivator hurricaned onto the stage, grabbed a groggy and un-enthused bunch of blownout bozos and got them moving, shaking, dancing and most impressively sweating. After getting powered up, we practically skipped over to the Lions Den to watch the festival opening ceremony, a typically flamboyant affair drawing a crowd even at this early hour. Once the ribbon cutting is done, we tear off to the Town Centre and a set from the one and only Bad Manners. Working through an impressive disco of hits, beautiful fatty Buster Bloodvessel got our feet moving with a different kind of motivation, rhythm and soul.
The sun is out in full effect; we are taking an absolute battering. We pop back to the tent to grab sunscreen and a change of clothes before heading down to the Wandering Word stage to catch last year's slam winner Lagan Legski Purdy. Wielding words like weapons, he knocks politely before smashing into your heart and head. Proving the power that the tongue alone can hold, his final piece is dedicated to new found love and was almost as moving as his ode to a good ol' cup of tea. Back over at the Town Centre, The Slackers are busy rousing Disco Dave the saxophonist from a quick nap with a set as impressive musically as it is enjoyable theatrically. With their thick New York accents and meaty stage presence, The Slackers leave an impression.
We wander back down to the Wandering Word to catch the tantalising trio of Solomon O.B, Captain Hotknives and Strangelove. First up is Solomon O.B who we caught by happy accident due to a hiccup on the timetable, who kept us firmly seated with his honesty, enthusiasm and perfected performance. His poems that were as thought provoking and profound as they are musical, you couldn't help but nod your head in agreement with his message and in time with his rhythm. Captain Hotknives played an irreverently interesting set managing to play off the humour with just enough wit to leave the audience thinking. Next up Strangelove proved that sometimes three isn't the magic number with only two of the three managing to make it to the show. Chango Flash and Jakaboski bust out bars that are literal lyrical luxury. Their gonzo style is addictive, far from your average hip hop, it's something much more manic and monstrous and we can't wait to snort another line or two.
The sun is setting and it's about time we head over to the Devil Kicks Dancehall to catch Swiss rock'n'rollers The Peacocks. My spine shivers with anticipation as I realise I've been in Boomtown for a couple of days and this is the first double bass injection I've taken. I feel that thuddering guttural sound creeep up the back of my neck as I approach the stage and I bust out my skanking shoes. The Peacocks put on one hell of a party and a welcome change of pace.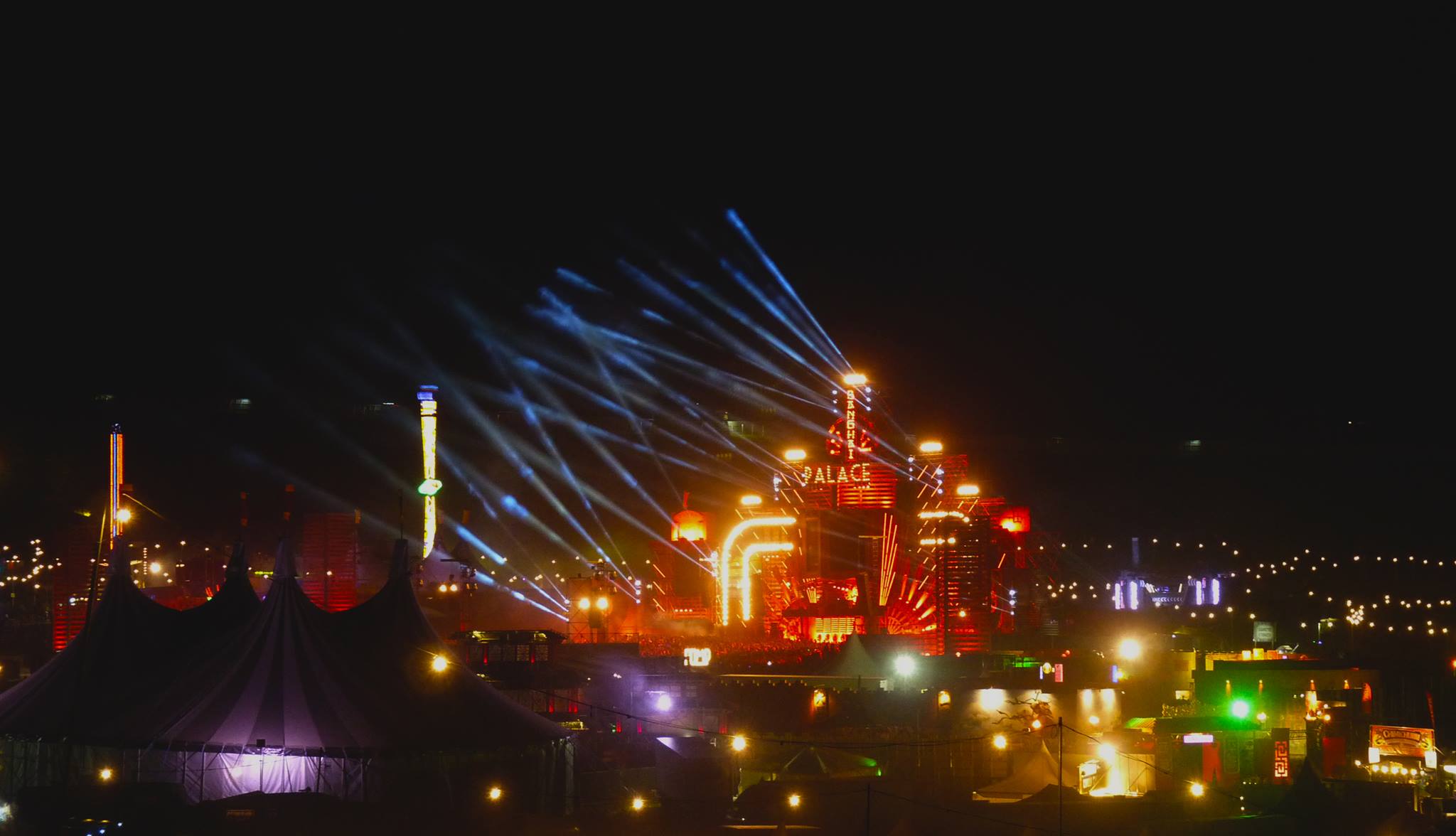 We head over to Crazy Calamities to catch Pachango putting on a fiery set that gets the entire crowd shaking. Joseph Selby provides quickfire lyricism whilst Sarah Wilson lets her lilting vocals soar to drive home the chorus or refrain. When the voices drop however you can hear just how diverse and impressive this incredible collection of musicians is and each instrument sings on its own beautifully. This is a band you absolutely need to see for yourself, a carnival of talent and bodies that always manages to fill out a stage. Whilst we were dancing our sweaty socks off with Pachango, we shared a drink and a tango with one of the Crinkle Cuts boys. He invited us to stick around and we were not disappointed. We can't remember much from that point on but we do remember 'Two Shoes' which is a crackin' little ditty. Crinkle Cuts spin a charming narrative atop excellent musicality and we'll definitely be keeping an eye out in the future.
Boomtown is the city that never sleeps. We're still firm friends of Charlie's even though the debonair gangster has apparently been locked up by the tyrant Jose Burrita. We cashed in on that connection anyway and sunk a few pints in Boomtown's worst kept secret speakeasy bar. At 3am, we heard the murmurings of yet another party and headed over to the Jolly Dodger in time to catch the magnificent Wombo Orchestra. They hit the night owls with one hell of a treat and had us chasing the dawn with dancing feet.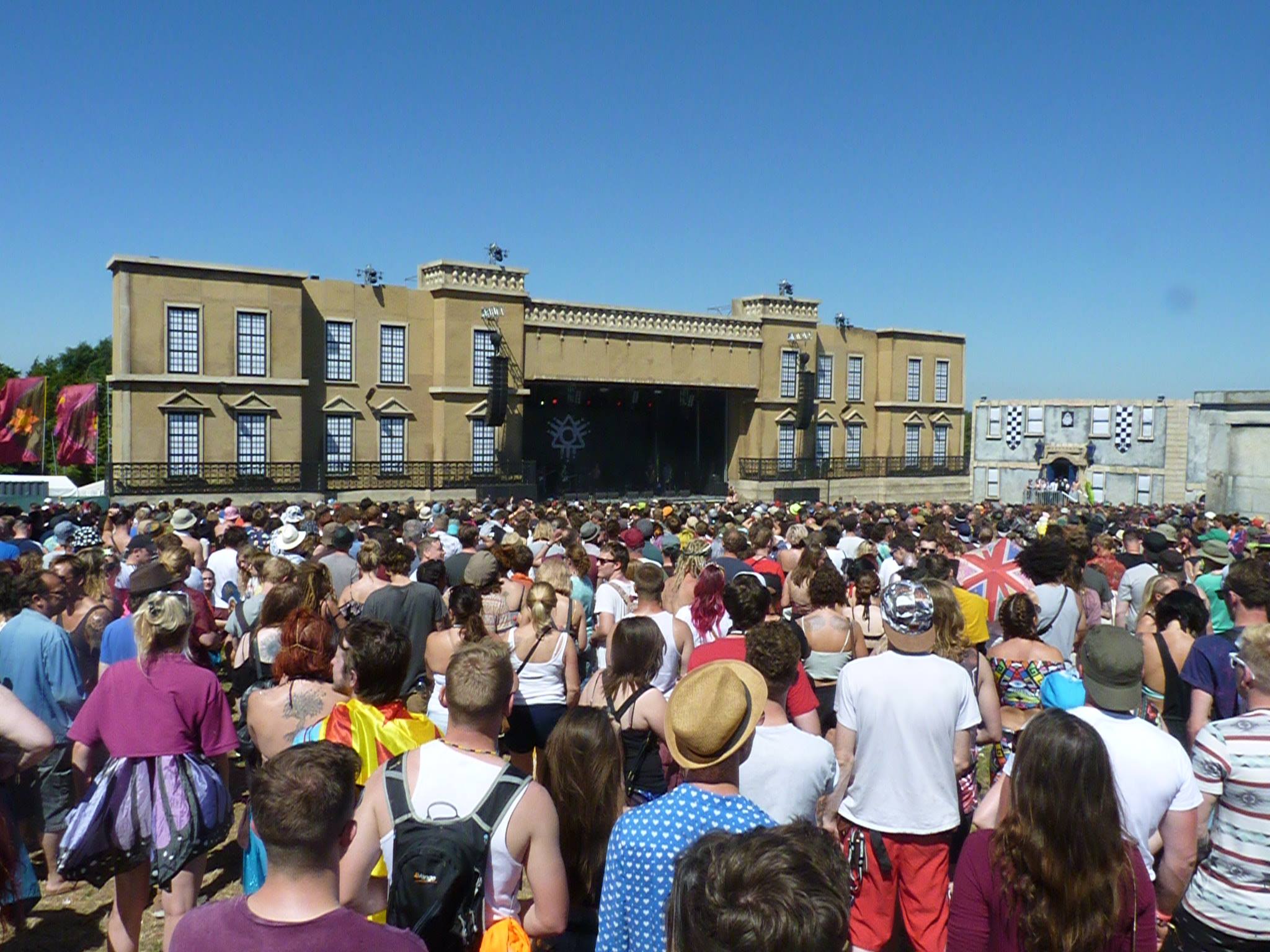 Saturday dawns and the sun is still shining extremely hard. We exit our tents to wilt face first into the cool grass and groggily we take stock: we haven't spent nearly enough time at our favourite home away from home the Devil Kicks Dancehall. We decide to go hang out with the Last Gang In Town crew immediately. With new addition The Last Stand stage propped up right outside the Devil Kicks itself, catching phenomenal music curated by these amazing folks is made even easier this year. The Zipheads were a highlight from the new stage and we caught them a couple of times. If this is what they can do acoustically we'd love to hear the power they can pump out amplified. The clever little covers and radical rock'n'roll they serve up is something unique and fresh.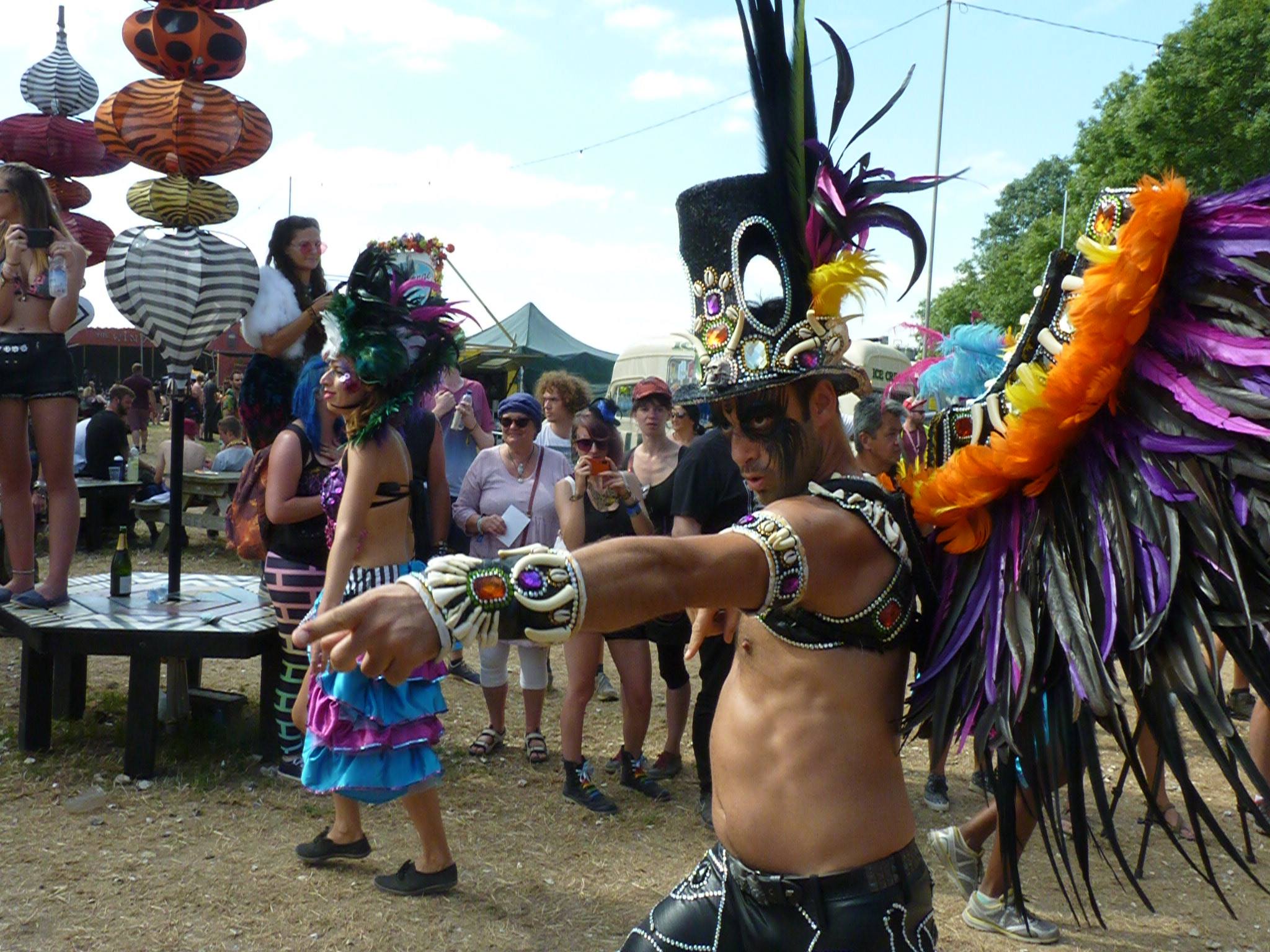 First up on the DKD stage is In Evil Hour who tear through a thunderous show setting the tone for the rest of the day. Al is a powerful showman and a force to be reckoned with, the energy bleeds from the stage and feeds the hungry crowd who respond in kind to this energising performance. Fully pumped we head to the Lion's Den to catch The Skints. Knowing how much more blood and sweat we have to give in offering to the Devil Kick's today, we make the most of the Lion's Den's natural amphitheatre and lay down in the sun. As the sweet soothing reggae jams of The Skints wash over us we enter an almost meditative state. 'Ratatat' and 'This Town' especially took flight live in a way they can't on record.
We continue with the reggae fusion vibes back at the Devil Kicks as the New Town Kings take to the stage to deliver a regal performance that gets the crowd to the boiling point, allowing The Filaments to vent that steam ferociously. On the Jolly Dodger stage Mr Tea & The Minions. Every bit as lively, passionate and irrepressibly buoyant as we remember from last year at the ballroom the band take to the pirate ship stage as if they were born to play there. They lead the crowd into a frenzied conga line that snakes throughout their set as we all swill rum and get merry to the battering beats.
We're only allowed a couple moments to recover before we can hear the Lion's Den roaring with the entrance of Madness. The entirety of the Boomtown citizenry seems to have turned out to watch Suggs and the boys. Slowing down some of their classic tunes just enough to give them a unique twist, they play a set that is familiar yet strange and lunatic enough to be utterly captivating. The camaraderie and size of the crowd is breathtaking and I'm glad we made it, we normally shun the larger bands in favour of the smaller tents for the intimate shows but we couldn't resist this time.
Sounds Of Harlowe straddle the Crazy Calamatie's audience next and deliver an almost erotic experience. In what might have been the most intimate show of the weekend SoH had fun making sure the audience did too. Introduced by the enigmatic frontman Solomon O.B during his poetry slot on Friday, we can't believe we haven't heard of this fantastic band before and if they go on tour Yack is going with them. Saving if not the best, definitely the band who enjoyed being there the most for last, we don't have to move far before we're swept into the pulsating bass of the Long Tall Texans on the Rusty Spurs stage. Mark Carew out of every musician we have ever seen still gets the biggest kick out of playing live possible. As soon as he starts slapping on that bass, an unstoppable and infectious grin takes over his face. This obvious and genuine love washes over the crowd and you can't help but chuckle to yourself and start moving your feet to the feel good music emanating from the stage. The Long Tall Texans have well and truly paid their dues and yet they're still making amazing music. If you haven't heard of them by now you should be ashamed. For us this was the true headline act and an absolutely unforgettable show.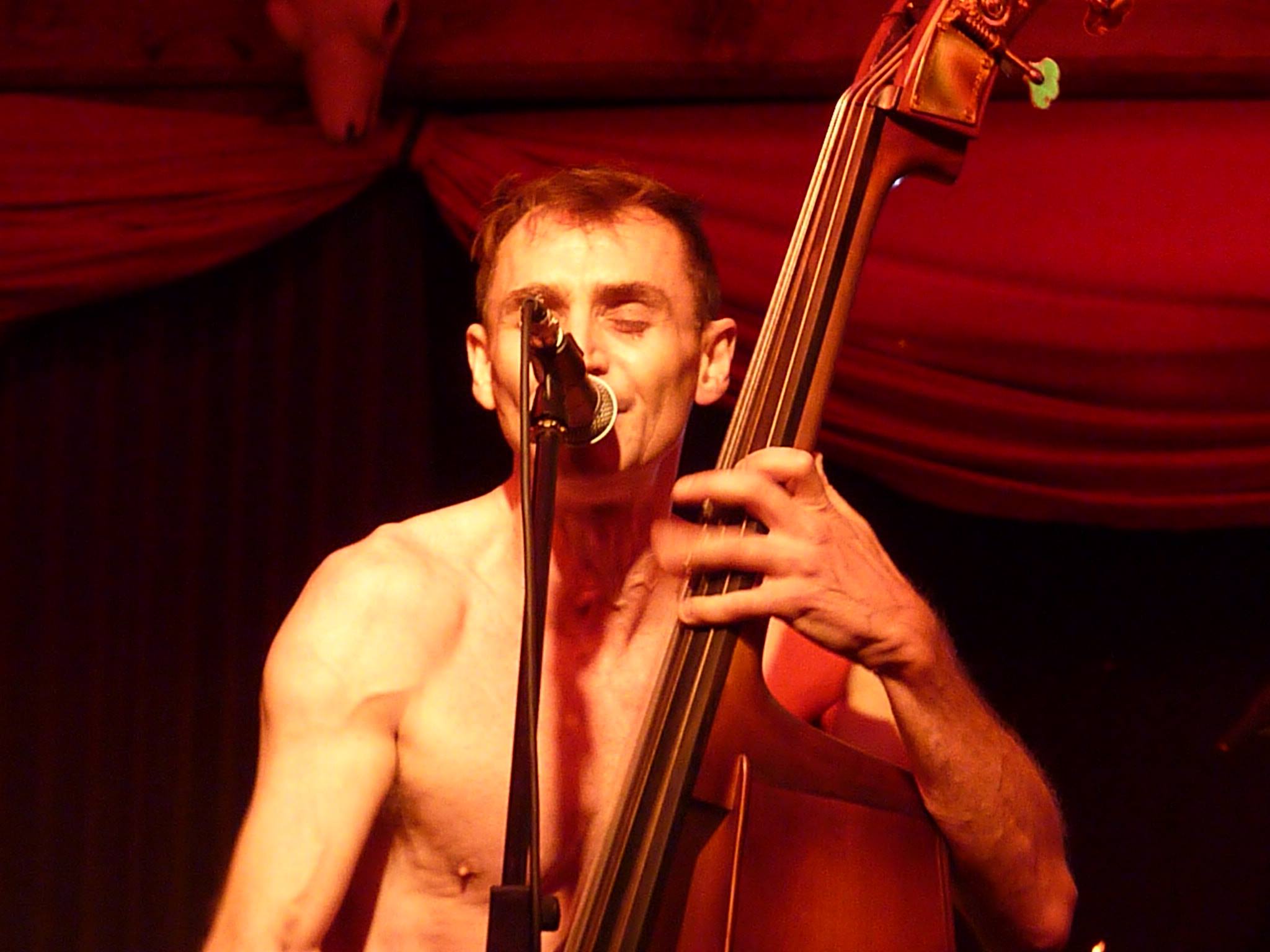 By Sunday we were so worn out we needed to turn down the tempo a little and we did. We headed to Trenchtown first thing and were serenaded by the ethereal vocals of Miss Aniya Savage. Her beautiful songwriting accentuated further by the double bass and violin accompaniment, it was the perfect way to drift slow and relaxed into the day's proceedings. We're looking forward to the upcoming EP and hearing a little more from this insanely talented young lady. With chai in hand we stuck around the Flying Lotus stage to catch Lil Rice & Ollie Clarke who deliver a surprisingly rocking set. Again the musicality was absolutely top drawer with Ollie capable of making his instrument truly sing, the only time he was outshone was when Lil unleashed her devastatingly powerful vocals bowing the crowd into devout attention. Every cover provided something new and their own songs were so beautifully crafted that we could have sat with them all day. Unfortunately Boomtown is unforgiving and cruel at times and our itinerary hurried us along to catch the Boomtown parade. A true spectacle and the work that went into the organisation and the costumes on display must have been epic. It's not often at a festival you're happy to just stand still but as this carnival of creatures passed you couldn't help but get lost in the marvellous display.
We followed the procession to the Jolly Dodger stage where the Poor Old Dogs were already in full swing. They dealt with the sudden intrusion of samba drums and crazy costumes with the up-most professionalism siphoning a fair share of the followers into their own crowd. Spinning fine folk tales atop fantastic instrumentation the Poor Old Dogs weave a web that is very easy to get ensnared in we couldn't have left even if we wanted to.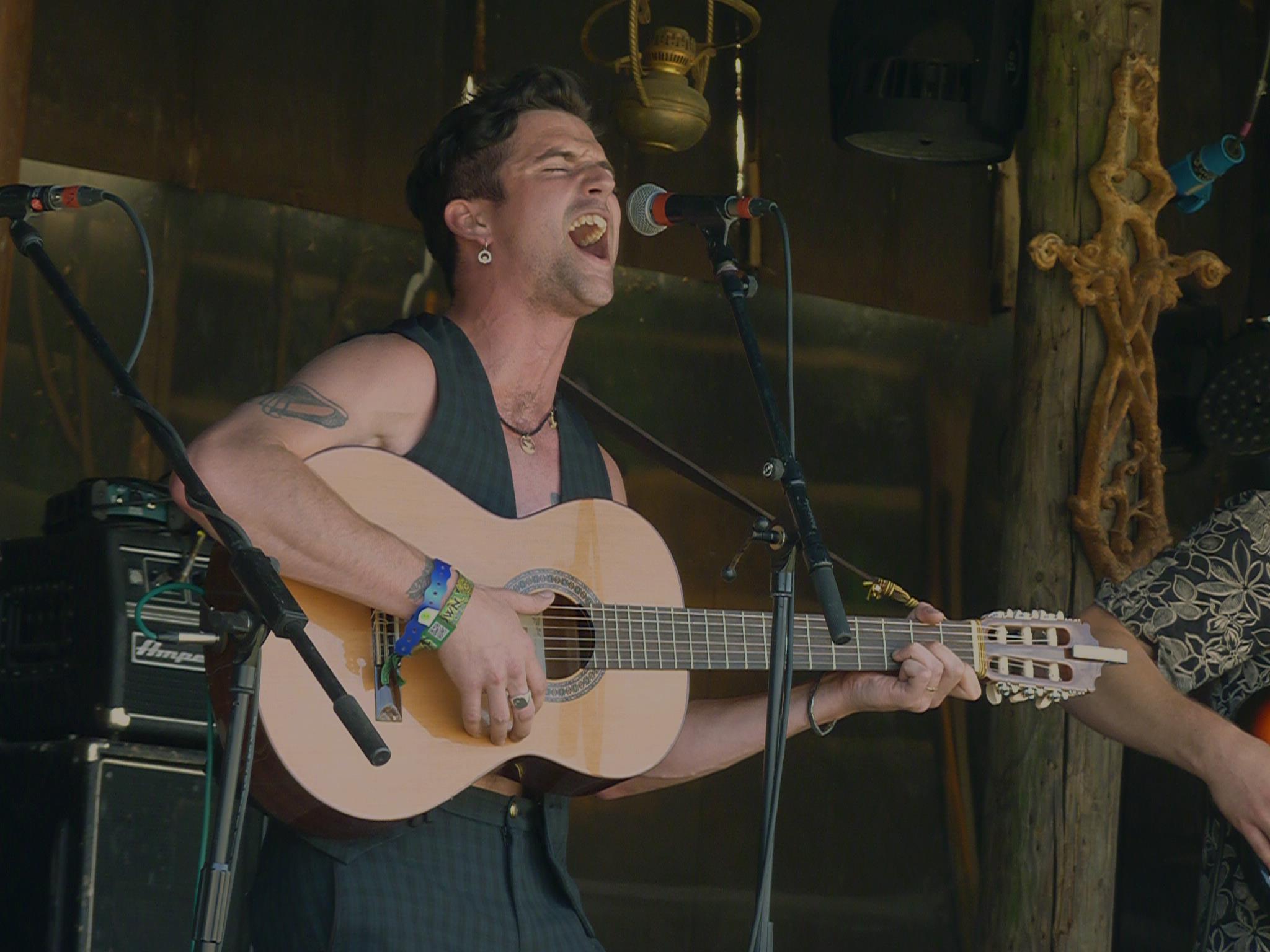 After this, it was easy to chill out with a few beers over at the Town Centre stage, somewhere we usually try to avoid due to the congested crowds. Neville Staple, The Selecter and the Mad Caddies all put on fantastic shows worthy of their renown and status. Over on the Wandering Word the slightly more underground veteran and cult hero Chester P put on a sick little set to a buzzing crowd. Waxing poetical and political about everything on his mind in between his songs, the message he gives the crowd is one of mindfulness, love and respect far removed from the booze, bitches and bling, that permeates modern popular hip hop. Chester P offers the crowd something truly heartfelt and unique and it's not the most polished show of the weekend but it's certainly one of the most honest and enjoyable.
Keeping it in the same vein if in an entirely different genre our Sunday headline act is the Inner Terrestrials who we've managed to see over at the Devil Kicks Dancehall at almost every Boomtown we've attended. Spitting just as much venom in between songs as Chester P did (they would probably get along famously) IT are angry and rightfully so, they want you to be angry too though and you fucking should be. Songs that pack a punch lyrically and musically this is a band that we'll never get bored of seeing. They truly enjoy themselves on stage and they do it so bloody well. We don't normally list tracks but 'Boundaries', 'Law Dealers' and 'Heaven's Wrath' are genuinely three songs that soundtrack Boomtown for us every year. Sing along with us now "Reject your law and shit your god!"

We went into the Fair this year with a small amount of trepidation as the increased capacity last year was felt and almost claustrophobic, with increased numbers again we were worried but the carnival of distraction and debauchery that is Boomtown catered to everyone and the footfall was well spread across the site. Only at a couple points over the weekend were you aware just how many sweaty, drunk humans you were sharing the site with.
How can you properly condense Boomtown into one review? The festival is marvellous in the truest sense of the world. No two people will have the same experience and even the same person getting a do over would likely stumble down a completely different path almost accidentally. The festival is basically a pick your own adventure book with such a wealth of truly amazing music to choose from even if it was just blank stages and walkways it would be our favourite festival of the year, but it's not. Boomtown Fair put so much work into setting up the site and the truly beautiful stages are a thing of wonder. The story and creativity that is poured into the construction of what we're happy to agree is the maddest city in the UK is amazing. The dedication and time put into making this event an unforgettable one must be applauded. The festival is completely immersive and the suspension of disbelief is made easy for the citizens allowing them to trek happily down the rabbit hole. It's a trip that we will make time and time again and we don't see anything putting us off anytime soon. Rain or shine the site sparkles with the magic that burns in the hearts of the organisers and citizens alike. Even the fact that the punters are referred to as citizens rather than the public gives you an idea of how inclusive and special this wacky weekend is. If you weren't there with us this year make sure you are next time. We honestly can't wait.
We'd love to hear what you all got up to and what were your highlights of Boomtown Fair 2016, lets us know in the comments below. The fair is so insanely massive that you can't be everywhere without a clone or a time machine so share your experiences.
Words by Matt Miles
Pictures and Illustration by Jason Bowles